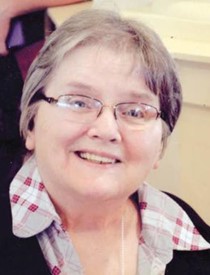 Judy Dammarell
1/8/1942 — 6/22/2018
We could list where she was born, where she lived throughout her life and where she worked. None of that would truly describe what kind of person she was. We could use all those loving adjectives that are commonly used to describe a loved one who has passed, but it still wouldn't give a true sense of her.
She lived her life with the concern and welfare of everyone else ahead of herself, so I think she would be pleased with this.
She married Bob Britton when she was 17 years old, and went on to have five daughters: Myrna Dammarell, Tina Province, Toni Larreau, Shirley Tannahill and Belinda "BJ" Fisher.
She dedicated her life to her marriage and the raising of her kids. Her marriage to Bob may not have lasted a lifetime, but his love, admiration and respect for her did last her lifetime. That is a testament to her in itself.
Later she married Ed Dammarell. They, several years later, also divorced, then both eventually went on to live at Life Care of Lewiston. Up to the end of his life, you could see Ed watch her from across the room and see the devotion and love for her in his eyes. Another life, forever touched by her. Ed brought much more to her life when they married. His son, Vern Dammarell, was adored by her from the moment she met him and he would forever thereafter be her son. Coincidentally, Vern would go on to become the love of her daughter Myrna's life. She also acquired two daughters from that marriage: Charlotte Roberts-Candia and Sissie Olson. We say daughters because that's what they were to her. People use the term "stepchildren" or call it a "blended" family. Not so with her. When she embraced you with her love, you knew it was real and you knew it was forever.
She had sons-in-law throughout her life, but none of them thought of her as "mother-in-law." She was Mom. There is one exception: Hugh Tannahill, husband to daughter Shirley. He may be a son-in-law, but more than that, she always said if her daughter hadn't married him, she would have stole him for herself.
To the end, her entire life revolved around her family. Everything she was, everything she did, everything she gave, was for them.
To the end, she had such courage and held tight to her faith.
So rest in peace, momma; soar the heavens with your daughters, Tina and Toni. We know you will continue watching over your family here.
She was preceded in death by mother Shirley Frost; father Abel Anthony; brothers Robert, George and Dick Anthony; and daughters Tina Province and Toni Larreau.
She is survived by brother Jim Anthony; daughters Myrna Dammarell (Vern), Shirley Tannahill (Hugh), Belinda Fisher (Dana), Sissie Olson and Charlotte Roberts-Candia (Armando); son-in-law Mark Larreau; grandchildren Shane Huffman (Laura), Michelle Brown (Omar), Chad Dammarell (Victoria), Fallon Province, Calem Woerman, Jessica Vasquez, Edie Stephens, Chrystal Smith (Joe), Erica Fisher, Melinda Fisher, Ben Olson, Nathan Cone and Justen Roberts (Jessica); and great-grandchildren Brielle, Olivia and Cody Huffman, Orion Brown, Axel Dammarell, Phineous Woerman, Ricky, Cynthia and Nicole, Blake and Mariah Smith, Elisio Perez, Taylynn Sperber, DJ Harris, Justice, Javoni, Tayshaun and Lina Cone, and Jasmine, Jayden and Juel Roberts.
Graveside services will be held at 1:30 p.m. Sunday at the Weippe Cemetery.
Service Information
Date & Time

Sunday, July 1, 1:30 AM

Additional Details

Graveside service at Weippe Cemetery.
Offer Condolences