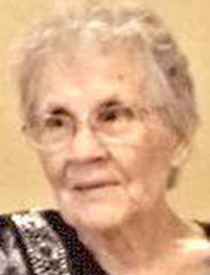 Juanita Bruder
9/24/1926 — 10/13/2019
Juanita May Bruder passed away peacefully Sunday, Oct. 13, 2019, surrounded by her family.
Juanita was born to Amelia and Andrew Shook on Sept. 24, 1926, in Osakis, Minn., in an old farmhouse next to her grandma Steffen's home. As a child, she enjoyed playing in the woods on the teeter-totter with her siblings. She graduated from Osakis High School in 1944. She met Edward Bruder at a barn dance, and they later married April 12, 1947. They bought a dairy farm and started their large family of nine children. In 1972, they sold the farm and moved the family to Kamiah.
They were active in the St. Catherine's Catholic Church. Juanita enjoyed hiking, traveling and working in her flower beds, but the thing that gave her the greatest joy in life was her children, grandchildren, great-grandchildren and the numerous other kids that stopped by her house. She also enjoyed her daily walks to the post office and visiting with people in the lobby.
Juanita was preceded in death by her parents; an infant daughter; husband, Edward Bruder; son James Bruder (Mary) and two grandkids.
She is survived by daughters Sharlee Heckmaster (Ray), Nancy Merritt (Scott), Jill Sams (Randy), Anita Bruder-Casey (Larry) and Shelly West; a son, Neil Bruder (Tassanee); 28 grandkids and 44 great-grandkids.
A rosary vigil will begin at 1 p.m. and the memorial service will be begin at 1:30 p.m. Thursday at All Saints Catholic Church in Lewiston. Coffee and dessert will follow.
Service Information
Date & Time

Thursday, October 17, 1:00 PM

Location

All Saints Catholic Church
3330 14th Street
Lewiston, ID 83501

Get Directions
Condolences
Linda Taniguchi
Rosemary Hutchins was my mother. Her and Juanita were friends for years in Kamiah, played cards together, church functions together and enjoyed each other's company. Sorry to just find this out. She was a wonderful lady!
Sunday, May 17, 2020 9:23 PM
Offer Condolences