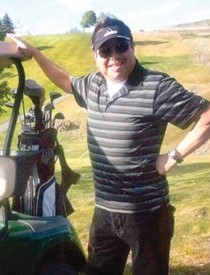 Joseph Calfrobe
6/26/1962 — 5/23/2017
Joseph D. Calfrobe, 55, joined his loved ones surrounded by his family after a long, hard battle with pancreatic cancer on Tuesday, May 23, 2017. He gave his best until the end and he was not scared to "fly away when it was his time."
Joe was born in Oregon City, Ore., to Chloe Halfmoon and Russell Calfrobe. He also was raised by his grandparents, Nancy and Richard Halfmoon. Joe was a proud member of the Nez Perce Tribe and was an active drummer, singer, hunter and dancer who was known for his loud, strong singing voice.
He attended school at Lapwai and at Haskell University for a semester in the early '80s. During his younger years, he was active in basketball, baseball and football. He always had stories of those days he cherished. He traveled to various basketball tournaments with coach Dan Stevens throughout his teen years. Later on in life, he found himself coaching the Lapwai boys' and girls' teams that he was "volunteered" for by his wife.
Joe found his love, Terri, 10 miles away in Culdesac, and they were united in marriage on March 22, 1997, at Spalding Presbyterian Church. They had two daughters together, Lena Chloe Anne Calfrobe and Terri Jo Calfrobe, and he helped raise two sons, Samuel Maurice and Edward James Slickpoo.
He was a hard-working man who enjoyed working outdoors, mostly in the construction field. He had his hand in the completion of many projects on and off the reservation with various construction companies, including Pacific Paving, Nez Perce Limestone Enterprise, HERCO, Construction Management Group through Nez Perce Tribal Enterprise, M.L. Albright, Wadsworth, Dan Taylor Construction, Poe Asphalt and McAlvain Construction, to name a few. He also held positions with various departments of the Nez Perce Tribe, such as Early Childhood/Headstart Program as "Bus Driver Joe," security, Appaloosa Express and Nez Perce Tribal Housing. He also was a member of the Nez Perce Tribe fire-fighting crew, and one of his fondest memories was traveling to Alabama. He was employed as a maintenance technician at the Clearwater River Casino until his illness forced him to resign.
In his early years, he was surrounded by many elders who he looked up to and followed in the ways of drumming and singing - Tex Williams, Sam Jackson, Oscar Broncheau, Cyrus Red Elk, Dennis Williams and Jim Morris. He also was a champion dancer and he participated as a dancer in Spokane during Expo '74, a memory he was very proud of.
He was an active member of the Talmaks Presbyterian Church Camp, Mud Springs Association (Welcoming Committee and Come Back Next Year Committee), Chief Joseph and Warriors Pow Wow Committee, Hiitem' Waq'iswit Pow Wow Committee, and Nez Perce Tribal Golf Association - Team PK's.
He enjoyed yearly visits to Tamkaliks Celebration in Wallowa, Ore., and Chief Joseph Days in Joseph, Ore.
Joe is survived by his wife, Terri, at the family home in Culdesac; daughters Lena Calfrobe and Terri Jo Calfrobe, both of Culdesac; sons Sam and EJ Slickpoo of Lapwai; grandchildren Talea, Pie and Junior Slickpoo of Lapwai and Joseph Jonathan Zimmerman of Culdesac; mother Chloe Halfmoon of Lapwai; sisters Diane Ellenwood and Charlotte Ellenwood of Lapwai, and Deleen Ellenwood of New York; brothers Cedric Ellenwood of Lapwai and Richard Calfrobe of Browning, Mont.; and numerous nieces and nephews. He was preceded in death by his father, Russell Calfrobe; grandparents Richard and Nancy Halfmoon; and grandmother Esther McAtty.
There will be a memorial service at 6 p.m. today at the Pi Nee Waus Community Center in Lapwai. Funeral services will be held at 10 a.m. Saturday at the Pi Nee Waus Community Center in Lapwai. Burial will follow at the Spalding Cemetery, with dinner to follow at the Pi Nee Waus.
Malcolm's Brower-Wann is in charge of funeral arrangements.
Service Information
Date & Time

Saturday, May 27, 10:00 AM

Location

Pi-Nee-Waus Community Center
99 Agency Rd.
Lapwai, ID 83540

Get Directions
Offer Condolences