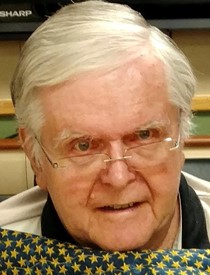 John Nydegger
11/28/1926 — 11/29/2019
Dr. John Louis Nydegger passed on to the greatest stage of the universe for his ultimate performance Friday, Nov. 29, 2019.
He made his debut Nov. 28, 1926, joining his parents, John and Helen (Cummings) Nydegger, and growing up outside of Elgin, Iowa.
Dr. John, as he was affectionately known, attended a one-room country school and ultimately graduated high school from West Union (Iowa) in 1944. He attended the University of Iowa before being drafted into the U.S. Army, serving in the Philippine Islands as a member of the 281st Army Ground Forces band as a clarinet player.
Upon discharge, he continued his schooling at Iowa State Teachers College (now the University of Northern Iowa), from which he graduated in 1949 with majors in English, speech and drama. He taught these subjects at Waverly High School (Iowa) and East Waterloo High School (Iowa) from 1949-1954. Dr. John taught drama and speech at Ellsworth College from 1954-1963.
Dr. John contracted polio while teaching at Ellsworth. He was known to be the last person in Iowa to come down with the disease before the vaccine was invented in 1955. He did not sit idle while recovering, only missing one semester of the school year, and working on his master's thesis through Denver University. It took him seven months to recover and he had residual physical deficits in his legs, requiring him to wear braces and use crutches for the remainder of his life, finally progressing to a wheelchair in his later years.
Despite his physical disabilities, Dr. John flourished in academia, receiving his master's (1963) and doctoral (1969) degrees in theater from Denver University. He found a teaching job at Lewis-Clark Normal School, where he taught English, theater and speech until his retirement in 1987. He wasn't too sure about Lewiston initially because of the "rarefied air"; however, he found he was home and never left. During his tenure there, he directed more than 50 plays and musicals, encouraging, cajoling and molding more than a generation of students. Additionally, he served as the academic dean of the college for several years. During this time he competed and won the 1965 Toastmaster's International competition in New York City, receiving a "very nice plaque."
Dr. John was one of the founding members of the Lewiston Civic Theatre, where he was able to share his love of theater beyond the college walls. He served as president and on its board of directors for many years. The LCT survives to this day, a testament to his legacy of love for theater and this community's support of the arts.
After retirement, Dr. John traveled to Europe, particularly Switzerland, where he made many lifelong friends. He also went back to Iowa for many years as a guest director for theater productions.
Dr. John eventually moved to the Idaho State Veterans Home in Lewiston where he lived his final six years. He had an impact on the staff and residents there, becoming the president of the Resident Council for several years. He kept his Iowa farming boy roots alive by keeping a small garden patch at his home and at the VA every year, growing tomatoes and marigolds as his favorites. He attended the monthly luncheons with the retired LCSC instructors group regularly.
His hobbies were gardening, cooking, traveling and doing fancy stitches.
Dr. John was married to Carol McCallum in 1954. They later divorced in 1963.
His parents preceded him in death. He is survived by cousins in Iowa and many friends locally and throughout the world. An outpouring of love and remembrances have been received since his passing.
Funeral services will be held in the Silverthorne Theatre on the LCSC campus in early 2020, with the date yet to be determined. He will have a second service at Illyria Community Church, near Elgin, Iowa, where he worshipped as a child. Burial will be in the cemetery there.
Dr. John has asked that flowers not be sent as memorials, but that those who wish to make a memorial do so in the form of a contribution to the John L. Nydegger Scholarship at LCSC. This fund was established at his retirement to benefit promising theater and communication students at LCSC.
Thank you, Dr. John, for your many thoughtful gestures, browbeating, radar crutch and bringing out the best in all of us.
Offer Condolences