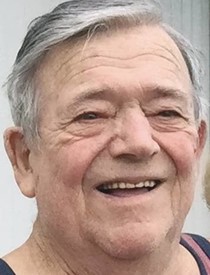 John Guiggey
8/31/1934 — 3/2/2018
John H. Guiggey, 83, passed away Friday, March 2, 2018, at home, in the loving arms of his wife of 62 years, Lillian M. Guiggey.
John was born at home Aug. 31, 1934, to parents James and Edith Guiggey, in Zealand, New Brunswick, Canada.
It was evident at a young age that Johnnie was a brilliant young man with a special talent and love for mathematics. However, to help support the family, he was pulled out of school after completing the fifth grade and went to work in the woods with his father.
In 1965, John, his wife Lillian, and their three children moved to the United States for a better opportunity. Shortly thereafter, he got a job at Aroostook Shoe and remained in the shoe industry until he retired.
In 1970, he was initiated into the Masonic Lodge in the small town of Mars Hill, Maine, where they raised their family. As with all things he did, he worked hard, holding the office of junior deacon from 1972 to 1973, senior deacon from 1973 to 1974, junior warden from 1974 to 1975, and senior warden from 1975 to 1976. He was master of the same lodge No. 197, both in 1976 to 1977 and 1985 to 1986. He also held offices in the Grand Lodge of Maine.
John was a member of the Anah Shrine and helped create the Oriental Band. Although no members could read music and they played by ear, they did well in competitions.
Always busy and being the overachiever he was, John was on both a bowling and curling team in the winter months and was on a softball team in the summer while he and Lil were raising their family.
To know John Guiggey was to know a simple, yet humble man who had a heart of gold. Two of the things that were closest to his heart were giving and cooking, both of which gave him great pleasure as he loved to make people happy. He also loved to tell stories and make people laugh, as he had an amazing sense of humor.
John is survived by his wife, Lillian Guiggey; sons Tim Guiggey and Mitchell Guiggey; daughter Janice Rose Lamers (Denisarosa); eight grandchildren; nine great-grandchildren; brother Floyd Guiggey; and sister Ethel Staples.
He was preceded in death by father James Guiggey; mother Edith Guiggey; brother Wilmot Guiggey; and sisters Almina Brewer, Violet Moorehouse, Mary (Amber) Staples, Nel Marquis and Gladys Moorehouse.
Services will be held at 2 p.m. Saturday at the chapel of Orchards Community Church, 822 Bryden Ave., Lewiston.
Condolences
Ashley & Sharon Morehouse
So sorry to hear about Johnny,may all your memories give you strength, sending lots of love to all
Wednesday, March 7, 2018 4:43 PM
Offer Condolences