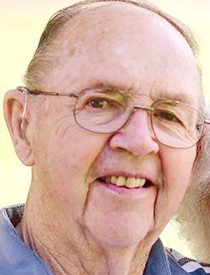 James "Jim" Russell Grubb
10/3/1931 — 9/26/2018
Dad passed away Wednesday, Sept. 26, 2018, at age 86, while residing at the Royal Plaza Care Center of Lewiston.
His passing brings an end to the era of the three Grubb boys who grew up on a farm at Mission Creek near Culdesac in the 1920s and '30s.
Dad was born Oct. 13, 1931, to Greek and Jennie Grubb, at the home of a midwife in Clarkston. At age 10, dad, along with his brothers, Dean and Dale, moved to a farm in the east Orchards. He lived in Lewiston his entire life, with the exception of two years he served in the U.S. Army.
He graduated from Lewiston High School in 1950. As a Bengal, he played basketball, and was in the band, performing in the annual blossom festival parades. His family attended Orchards Community Church, along with the Ryther family, and it was at the church he met the love of his life, Ruth Ryther.
Dad and mom were married Nov. 25, 1950, at the church, and they honeymooned at Sun Valley, Idaho. They continued their lifelong membership at the church. When mom passed away in 2013, dad continued to attend until ill health kept him away. Beyond his family, church was the most important part of his life.
After accepting Christ as his savior at age 18, he served in many roles at the church, including deacon, Sunday school superintendent and teacher. He touched many lives as a Sunday school teacher and was blessed to hear from former students. He and mom led the church youth group, Jet Cadets, for many years and later volunteered in the Awana Club.
For many years, he served as the church bus driver for kids attending Alacca bible camp in Harpster. Dad joined mom singing in the choir, performing special music at church and at nursing homes. Even though he was in hospice care, he was able to sing "Amazing Grace," hours before passing away.
He loved driving tractors, and at age 13 he started his working career at John Thiessen's farm in Tammany, and later at Aubrey Pratt's farm in Craigmont.
In 1952, dad was working for the Camas Prairie Railroad when he was drafted into the U.S. Army. He was stationed in Okinawa, Japan, for 18 months, and was honorably discharged in 1954 after serving two years. Because of changes in the railroad, there was no job available at Camas Prairie for dad upon his discharge, so he went to work for Van Jones Construction, and later Troy Lumber Co.
In 1960, he began his 32-year career as a clerk for the U.S. Postal Service. During his postal career, he would clock out from his morning shift and head to his second job as a cabinet maker with Valley Sash, which he worked at after completing his morning shift at the post office. After retiring in 1992, he became the maintenance man at his church and worked with his granddaughter, Jennie Fiske, doing drug tests.
In 1955, our parents bought their first and only house, "The Park Avenue Palace," where they raised their family. As the family grew, dad completed different parts of the house for us to live in. Not exactly up to housing codes, but it worked for us. Dad lived in the house until earlier this year.
Dad's hobbies included repairing all our cars, and gardening. He drilled a hole in the carport roof to support his man-made hoist to work on vehicles. He took great pride in his half-acre garden, which provided family members and friends with years of vegetables. He used his downstairs workshop as a fix-up shop for numerous projects. He took great pride in his lawn, and it was rare to drive by the house without seeing him doing something in the yard.
When mom passed away, dad bought his "dream machine," a John Deere riding lawn mower, something we believe was vetoed by a one to one vote during 63 married years. Many grandchildren and great-grandchildren enjoyed riding with "grandpa Jim" around the yard. He was also an avid fan of Seattle Mariners and Gonzaga Bulldogs games on TV, as well as attending Lewis-Clark State athletic events.
We kept him busy with sports and school activities. Playing in hundreds of sporting events, we knew dad and mom were always in attendance. Dad also coached Babe Ruth baseball. As grandchildren and great-grandchildren came along, he continued to attend as many school events as possible. He also helped with our 4-H projects and built a fence in the backyard for us to raise sheep, becoming "birth-doctor" to numerous lambs. In a decision that will puzzle archaeologists in future years, he became the caretaker for our "pet cemetery," volunteering his "back forty" to be the final resting place for all our beloved pets, even after we had all moved away. His "grand-dog," Pickle, will miss sitting on his lap.
He was preceded in death by his parents, wife, two brothers and grandson Shayne Grubb.
He is survived by children Wayne (Leanne) Grubb and Denny (Deanne) Grubb, all of Lewiston, and Cheryl (Mark) Croskrey of Richland; grandchildren Jennie Ann (Ryan) Fiske, Megan, Jonathan and Samuel Grubb, Timothy (Valerie), Michael, and Deborah and Benjamin Croskrey; three great-grandchildren (with another one on the way); and honorary daughter Phyllis (Ted) Scott of Brentwood, Calif.
A family graveside service will be held at 10 a.m. Thursday at Lewis-Clark Memorial Gardens of Lewiston, followed by a memorial service at 11 a.m. at Orchards Community Church, 822 Bryden Ave.
Memorial donations may be made to the Orchards Community Church Awana fund for kids, in memory of dad.
Proverbs 28:20 says: "A faithful man will abound with blessings." Thanks, dad for blessing us abundantly.
Service Information
Date & Time

Thursday, October 4, 11:00 AM

Location

Orchards Community Church
822 Bryden Avenue
Lewiston, Idaho 83501

Get Directions

Additional Details

Family Graveside Service Thursday October 4th, 2018 at 10:00 a.m.
Offer Condolences