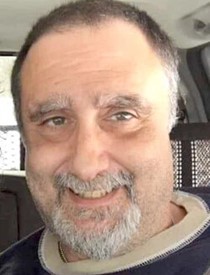 Jack Carl Patterson
5/10/1963 — 4/13/2022
Jack Carl Patterson, 58, was called to heaven way too soon, on Wednesday, April 13, 2022.
Jack was born May 10, 1963, to Jack E. and Gwen Patterson in Anchorage, Alaska. He grew up in Moscow and Coeur d'Alene, where he graduated from high school in 1983. Right after high school, Jack moved to Lewiston to attend Lewis-Clark State College, earning a certificate in auto body. While attending college, he met the love of his life, Carol Neiman, and they were married March 15, 1985.
On Sept. 14, 1986, Jack and Carol were joined by their first son, Jason, followed by Chelsey on March 17, 1990, Ashley on June 6, 1991, and Tyler on May 19, 1997. On May 6, 2020, Jack was given his first grandson, and the joy of his life, Daxton Hunt. Jack was a very proud father and grandfather. His family was the light of his life and he enjoyed doing anything that involved them.
Jack had many joys in life, including building and racing RC models, camping with family and friends, ATV riding, traveling and treasure hunting. Several years ago, he purchased his "dream truck" and spent many hours adding items to make it his own. He was so proud of his "Truck." He was very good with his hands, always building and fixing things, and would be there at the drop of a dime. Jack was known for his big hugs, compassion and large laughter. Jack had a huge heart for those around him. He was called Father Patterson by his close friends while growing up because he was always trying to keep them out of trouble. After having his own children, Jack became a father figure to many of their friends, and a grandpa to his forever grandson, Trey Warren. Jack is going to be missed tremendously.
Jack is preceded in death by his sister, Dora Patterson; stepfather, Les Marsan; stepmother, Cora Patterson; his paternal and maternal grandparents; and his in-laws, Jean and Melvin Neiman.
Jack is survived by his best friend and loving wife of 37 years, Carol Patterson; his children, Jason, Chelsey (Brandon Hunt), Ashley, and Tyler (Alli Higgins); his grandson, Daxton Hunt; and his father, Jack E. Patterson, all of Lewiston. He is also survived by his mother, Gwen Marsan, and sister Kathy (Rob) Mason, of Coeur d'Alene; nieces Tina, Chrissy, Lacey, Brenda and AnnaLeasha; nephews Christopher and David; and his bonus family, daughter Mandi, grandson Trey and granddaughter Kenzie.
There is a memorial donation account at Potlatch No. 1 Financial Credit Union (P1FCU) that the family will use for a celebration of life in Jack's honor. A celebration of life has been planned. If you would like to attend, please reach out to a family member for details.
Offer Condolences