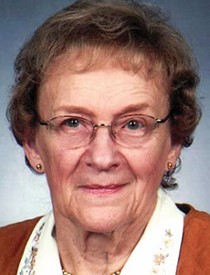 Irene Anderson
1/11/1922 — 6/22/2017
Irene Louise Anderson passed away Thursday, June 22, 2017, at Living Springs Residential Care, Lewiston. Irene was born Jan. 11, 1922, in Clarkston, to Rudolph H. and Anna L. (Lipke) Walk. Her parents owned Walk Furniture and Mercantile Store in Clarkston for many years. The street Walk Lane was named in their honor.
Irene's father passed away in September of 1951 and her mother in September of 1977. Irene had one sister, Frances Walk Weaver, and three brothers, Robert C. Walk, Howard P. Walk and Walter E. Walk. All preceded her in death. She was also preceded in death by niece Dana Walk and nephew John Walk.
Irene married Angus Gerald McKinnon of Sandy, Ore., on Oct. 23, 1962. Irene became stepmother to his three children. All three survive Irene: Colette K. (McKinnon) Hadley of Newark, Ohio; Nancy L. (McKinnon) Trukositz of Kennewick; and David J. McKinnon of Gervais, Ore.
Irene also is survived by nephews Robert Walk and Paul Walk; grandchildren Tiffany McEldowney, Jenny Hadley and Adam Hadley; and stepgrandchildren Derek and Ryan Trukositz.
Irene married the love of her life, A. LeRoy Anderson, on Feb. 16, 1992. LeRoy first met Irene when he was a student in the seventh grade at Lenore. Irene's sister, Frances, was LeRoy's teacher, and she had brought Irene to school with her one day. They met again some years later when LeRoy stayed at Irene's mother's boarding house in Clarkston and Irene had come home from nursing school one weekend to visit her parents. Each married others and lost their previous mates in death.
Irene graduated from Lewiston High School in 1940 and Deaconess Hospital in 1944. She was employed at the medical clinic on St. John's Way in Lewiston. She was very talented in oil painting, sewing and cooking, and she loved camping, especially during hunting season.
Irene is survived by her husband, A. LeRoy Anderson; stepson Robert "Bob" Anderson and wife Sue of Boise; stepgranddaughter Misty Mitchell, great-grandson Micah and great-great-granddaughter Arianna, all of Nampa; stepgrandsons Roger Bovey and wife Patricia of Grandview. Wash., Bruce Bovey and wife Sarah of Lucile, and Melvin Bovey and wife Sheree of Twin Falls; stepgreat-grandchildren Jessica, Josh, Braden, Noah, Sierra and Cordell Bovey; and son-in-law Dwight Bovey and wife Dode of Lewiston.
Stepdaughter Janet Anderson Bovey preceded her in death.
Irene said, "I want my friends to care for my beloved LeRoy and see he doesn't get lonely. Where I come from, we don't say goodbye, we say 'see you soon.'"
Irene was a member of the Trinity Evangelical Lutheran Church in Lewiston.
A graveside service will be held at 11 a.m. Friday at Lewis-Clark Memorial Gardens, 920 Eighth Ave., Lewiston, with the Rev. Dan Work of Chewelah, Wash., officiating. In lieu of flowers, donations may be made to Living Springs Residential Care, 1050 Hemlock Drive, Lewiston, in honor of Irene L. Anderson.
See you soon.
Service Information
Date & Time

Friday, June 30, 11:00 AM

Location

Lewis-Clark Memorial Gardens
3521 7th Street
Lewiston, Idaho 83501

Get Directions
Offer Condolences