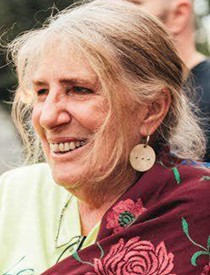 Iona Ruth McConville
8/17/1951 — 12/10/2018
Iona Ruth McConville, age 67, returned to the Creator on Monday, Dec. 10, 2018. She was born Aug. 17, 1951, in Weiser, Idaho. She grew up in the small and loving community of Huntington, Ore., and met her husband, Hershel, in Pendleton, Ore., where they were married in 1971. They raised three sons in Boise. With little formal education, Ruth was resourceful as a young wife. She started as a laundress and began caring for others' children while staying at home with her own. She developed a talent for working with challenging children and opened a day care center called Ruth's Zoo. She then worked at Child Protective Services as a family advocate.
At 28 years old Ruth suffered a stroke, forcing her to look for a less stressful way to support her family. Ruth and her sister, Donna, started a cleaning service that allowed Ruth and her husband to put all three sons through parochial school. The family cleaned the church and businesses at night to cover tuition. As her sons grew up, Ruth returned to working with marginalized children and opened a treatment home for disadvantaged boys. Over the next 15 years, she and Hershel provided a home for more than 400 boys. In 1995, they started planning their new chapter and in 1998 they moved to Hershel's home, the Nez Perce Indian reservation, where he was elected to the Nez Perce Tribal Executive Committee.
Hershel passed shortly after being elected, and a year later her youngest son died in a tragic accident. After grieving the deaths of her husband and son, she turned her talents toward her new community. Together with her oldest son, Jon, she opened a bead store that sold Indian supplies and local arts and crafts. She loved making shawls, dolls and soap, and was a talented gardener. In 2014, Ruth was elected mayor of Lapwai, where she served proudly until her death.
Ruth was preceded in death by her parents, Adolph and Winnifred Highland; her brother, Phillip; sister Marjorie; her husband, Hershel; and son Raymond.
Ruth is survived by her sisters, Donna, Lois and Julie; her sons, Jon and Michael; her daughters, Joey, Misty, Tracy, Christine and Erica; her grandsons, Ashlund, Michael and John; granddaughters Kylie, Nola and Isabelle; and great-granddaughter Bella. She also is survived by dozens of nieces and nephews and her embraced tribal family, as well as many others who looked up to her as a sister, mom, auntie and grandmother, and friend. She will be missed for her fierce love for family and community, her tenacity, humor and wisdom. Her legacy is that she did the work of a hundred mothers and gave everything she had to those around her. We will miss her but now is her time to rest. May she do so in peace. Ruth was laid to rest in Lapwai between her husband and son on Dec. 14, 2018.
Service Information
Date & Time

Friday, December 14, 7:00 AM

Location

Pi-Nee-Waus Community Center
99 Agency Rd.
Lapwai, ID 83540

Get Directions
Offer Condolences