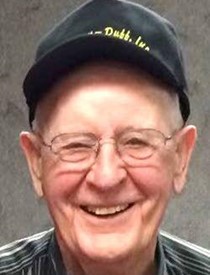 Hymum Cox
10/25/1925 — 9/19/2021
Hyrum Cox, 95, passed away Sunday, Sept. 19, 2021, in Clarkston. He was born Oct. 15, 1925, to John and Virginia Cox in Broken Bow, Okla. He was the second of three sons.
Being a child of the Depression, his formative years were spent in school, the various family homesteads and, in his teens, the Civilian Conservation Corp — the CCCs.
These factors shaped young Hyrum into a worker and a doer. He saw beyond rural Oklahoma.
His early escape from the rural subsistence farming came at 17 via the local sawmill. He made 85 cents for every hour he worked, and all the hours he wanted. He felt wealthy and validated.
He married the love of his life, Carmonetta Travis, in 1943. He was 18 she 17. They celebrated their 78th anniversary the day before he passed.
He and Carmonetta, along with their first child, moved to southern Oregon in 1945, joining uncles and cousins in mill work and ultimately construction.
Through success and love for road building, he eventually joined Steelman-Duff of Portland, Ore., in 1959. The company and he prospered, and ultimately he and Carmonetta bought Steelman-Duff in 1985. They built the company into a large three state road building contractor.
At one time their three children, their spouses and, in several cases, grandsons and great-grandsons worked for their company. They sold the company in 2017.
Hyrum retired at 92.
Hyrum is survived by his wife of 78 years, Carmonetta; son Jerry (Donna) Cox, of Meridian, Idaho; daughter Judy (John) Macy, of Asotin; daughter Sherrie (John) Ashley, of McMinnville, Ore.; four grandchildren, seven great-grandchildren and six great-great-grandchildren.
The funeral be held at 10 a.m. Oct. 2 at Malcom's Brower-Wann Funeral Home, 1711 18th St., Lewiston.
A reception will be held following the service in the Sternwheeler Room at the Clarkston Holiday Inn.
Service Information
Date & Time

Saturday, October 2, 10:00 AM

Location

Malcom's Brower-Wann Funeral Home
1711 18th Street
Lewiston, ID 83501

Get Directions
Condolences
Carolee Godwin
Lots and lots of loves to you Hyrum.
Gary and Carolee Godwin
Saturday, October 2, 2021 12:39 PM
Jonpaul Gerimonte
So sorry for ur loss hyrum was a great man and and a teacher he taught me a lot when I worked for him and my grandfather jay billman that worked for him aswell my thoughts and prayers are with u all sorry I couldn't make it just had found out and live far away. Send my condolences to his wife carmin he will be greatly missed especially by me what a true amazing guy and taught me so much
Saturday, October 2, 2021 10:08 AM
Ron T. Blewett
I was proud to work for Hyrum Cox. It is true that he was a master of his trade, but there was much more to the man.
Hyrum and I once were once out on a jobsite and for some reason the discussion turned to our families, and then to our wives. Hyrum pulled out his wallet and removed an old photograph. He looked down at the photo for a moment, smiling. Then he looked up and proudly passed the photo to me. "That's my gal."
I looked at the old black-and-white portrait of a very pretty and very young lady. The photo was worn, and had probably out-lasted several of Hyrum's wallets. "You are a lucky man" I said, passing the photo back to him.
He didn't put the photo back into his wallet right away, but stopped to look at it again. The smile came back. "I know" he replied, and very carefully returned the old photo to its place in his wallet.
I am a man of words, but this brief exchange told me more about the man than can be expressed.
It was a privilege to know him.
God Bless the Cox family.
Ron T. Blewett
Lewiston Idaho
Wednesday, September 29, 2021 7:46 AM
Offer Condolences