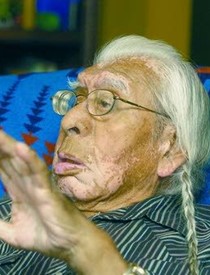 Horace Axtell
11/7/1924 — 9/7/2015
Horace P. "'isluumc" Axtell peacefully crossed over to 'eey'snin weetes (Happy Land) on Monday, Sept. 7, 2015. He was 90 years old. He was born on Nov. 7, 1924, in Ferdinand, Idaho, to Nellie Moody and William Whitman Axtell. He descended from both the Chief Joseph band and WhiteBird band. Horace devoted his life to his family and reached so many people throughout the whole world. He was a devoted husband, loving father, uncle, grandfather, great-grandfather and leader. He raised his children, many nieces and nephews, and grandchildren at his family home that he purchased with his wife and the help of his dad in 1964. He worked for Potlatch Forests Inc. from 1951 to his retirement in 1986. Horace demonstrated and proved to be a hard-working man, highly devoted to his wife and family, devoted to the walasat religion, and he was very proud to be Niimiipuu.
Horace had been a devoted spiritual leader of the Niimiipuu Longhouse located in Spalding since 1978. He was a traditional hunter and fisherman, and a gatherer along with his wife, children and grandchildren. In 1977, Horace was asked by (then) elders to revive the walasat spirituality. Knowing little of the traditional spirituality, he humbly accepted the role and diligently sought more guidance and learning. As a leader of the longhouse, he always remained humble and sought out more learning of the old spirituality, walasat, seeking out Umatilla, Colville, Yakama, Warm Springs and Cayuse walasat/washat leaders. He always said "you are always learning until the day you die." With his teachings he mentored young Nez Perces/Nimiipuu. He considered the longhouse his home. He would say, "kiye pi'amkcix nuunim hete'ew kine (we gather our love here)." He would get there hours early, making sure that everyone felt welcome, and was always the last to leave, making sure everything was tidy and clean. The new longhouse was his "dream." He devoted a huge chunk of his life seeking donations to build a new longhouse. Sadly, that dream never happened, but striving for a new longhouse will continue with the longhouse family that he leaves behind.
In 1943, during World War II, he left high school in the 11th grade and was admitted to the 529th Engineers, Light Pontoon Company, Floating Bridge Builders. His company was one of the first to see the devastation in Japan after the bombs were dropped. After the war ended, he married Andrea (Wilson), and they added two children to their six children from previous relationships. His family became the strong base from which he found his personal success. His war stories were re-told over and over to his children and grandchildren and will forever be in our memories.
In late 1977, Horace and several veterans were instrumental in showing the importance and historical significance of the Bear Paw Battlefield to the Nez Perce people and the country. These veterans would continue to honor the anniversary of the battles every summer from Idaho to Montana and Canada.
Horace was a "leader on the powwow dance floor." He would load up the children and grandchildren in his family van and take off to powwows throughout the United States and Canada. He gained long-lasting friendships on these powwow journeys.
Throughout retirement, Horace became more involved in Native issues and programs. In 1980, Horace protested alongside many people for Native treaty rights during the Rapid River standoff. "I tried to get arrested, but they didn't take me," he joked. He was asked to join the American Indian Science and Engineering Society (AISES), and AISES became another branch of family. He sponsored grandchildren to lifetime Sequoyah Fellowships. He became a part of the AISES Council of Elders, the Earth Ambassadors Council of Elders, and the Four Worlds Development Project Council of Elders.
He accepted an invitation from Lewis-Clark State College in the late 1980s to help teach the first Nez Perce language class. He continued to teach for up to 10 years. He also worked for the Tribal Employment Rights Office (TERO) from 1989 to 1993. Horace also had many short stories and essays. In 1997, his memoir, "A Little Bit of Wisdom: Conversations With a Nez Perce Elder," was published by Confluence Press.
The rest of the world also wanted to hear what he had to say. His quotes, interviews and photos can be found on hundreds of pages online and in many different languages. Horace continued to write and translate, including the oldest book in the Pacific Northwest, "Nez-Perces First Book: Designed for Children and New Beginners."
Horace traveled extensively, representing his family, longhouse and tribe. From across America to Canada, Europe and even during the 1993 presidential inauguration parade, he was honored by generations of people.
Horace was awarded the University of Idaho President's Medallion, and honorary doctorates from the University of Idaho and Lewis-Clark State College. The Washington State Historical Society honored him with a Peace and Friendship Award. The Idaho Humanities Council awarded him their Outstanding Achievement in the Humanities. National recognition of his work came in 2008, when the National Endowment for the Arts bestowed him with a National Heritage Fellowship. And in 2011, the National Indian Education Association voted him Elder of the Year.
Once in a while, when he had some quiet time, he listened to big band musicians like Benny Goodman and watched his favorite sports teams. And even in those peaceful moments, Horace showed everyone the gift and power of how our lives can impact those around us.
He is survived by his wife, Andrea; his sisters, Myra Rosales, Jackie Wapato and Lydia Arneecher; children Charles "Chuckie" William Axtell, Purnell G. Axtell, Harlene "Kay" Seven, Jean Bohnee (Boot Arthur), Elizabeth Bohnee, Brenda Axtell, Steve Axtell (Gabrielle), Etta Lorraine Axtell and Margo Aragon Herrington (John); many, many, many grandchildren and great-grandchildren; many adopted children; and all his friends and family that he inspired.
He was preceded in death by his maternal grandmother, "pee weyah ta ma lilpt" (Jane Moody); his mother, Nellie Moody Eneas; his grand-aunt, "taklahtsonmy" (Maggie Wilkensen); and aunt Annie Moody; his father, William Whitman Axtell; his brother, Olsen Reuben; his sisters, Betsy RedBear and Rebecca Bending; his daughter, Nellie Axtell; his great-grandson, Ambrose Smartlowit; and great-granddaughters Nevelle James and Nellie Jayne Ancheta.
A traditional walasat service will take place at 6 p.m. today at the Nimiipuu Longhouse in Spalding. Burial will occur at dawn the next day.
Service Information
Date & Time

Thursday, September 10, 6:00 AM

Location

Nimiipuu Longhouse

Lapwai, Idaho 83540

Get Directions

Additional Details

A Walasat service will take place at 6:00 p.m., Wednesday, September 9, at the Nimiipuu Longhouse.
Offer Condolences