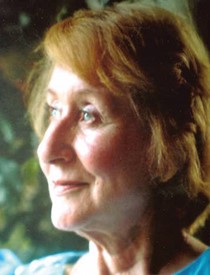 Hilda Strong
7/7/1924 — 12/6/2017
Dr. Hilda Gladys Strong, 93, passed away Wednesday, Dec. 6, 2017. She was born July 7, 1924, in Preston, England, the daughter of Henry William Lund and Ellen Jane (Holding) Lund. She was the second of four children. On Sept. 25, 1945, Hilda married Raymond Clifford Strong, a sergeant in the U.S. Army Air Corps stationed in England during World War II. She came to the United States in 1946 as a war bride. Although she became a U.S. citizen, she remained proud of her home country.
Hilda had a love of learning, as evidenced by her actions after all her children had started school. She attended for two years at what was then Lewis-Clark Normal School, where she earned the Gertrude Mellon Dick Award, the college's highest academic award. Her Bachelor of Arts in English followed in 1965 from the University of Idaho, where she received the Howard Packenham Award for Outstanding Graduate in English. A Master of Arts in English followed in 1968 from the University of Idaho. She received her Ph.D with a perfect grade-point average of 4.0 in English literature from Washington State University in 1980. Her work as a student was distinguished by excellence; she was a member of three national honor societies, beginning with her induction into Phi Theta Kappa at LCNS, followed by her induction into Phi Beta Kappa at the University of Idaho, and finishing with her induction into Phi Kappa Phi at Washington State University.
Hilda's work as a teacher continued her tradition of excellence in education. Her career on the other side of the desk began with teaching grades 1-4 at Beacon Seventh-day Adventist School in Lewiston from 1960 to 1962. She taught English at the University of Idaho from 1965 to 1967. In the fall of 1967, she began working at LCSC, where she taught for 17 years, retiring from there in 1984.
Hilda's greatest happiness was her family. Every summer, she, her husband Ray and their three children enjoyed camping trips and vacations on the Oregon and Washington coasts. They also camped and hiked at Wallowa Lake in Oregon, and many years the trips included friends, as well as family. She also enjoyed gardening, reading, researching and writing.
Hilda is survived by her children, Linda-Rae (Strong) Higby and Albert Higby of Lyons Falls, N.Y., Marilyn Jane (Strong) Folk and John Folk of Seal Rock, Ore., and David and Wanda (Gangewer) Strong of Weippe; one brother, Harry Lund of Chemsford, England; five grandchildren, Kim (Strong) and Pat Donahue, Cheri Strong and Seth Paine, Daidre (Higby) and Johnson Scaria, Sharna (Higby) and John Karelus, Sara (Folk) and Ryan Berweger; nine great-grandchildren, Ryan Strong, RayLynn Smith, Courtney Wolhaupter, Joshua Chapman, Ethan Scaria, Joshua Scaria, Brayden Scaria, Tyler Scaria and Adela Karelus; two sisters-in-law, Janet Gregg and JoAnn Frost; and nieces and nephews. She was preceded in death by her parents; her beloved husband, Ray; brothers Gordon and Bert; and sisters-in-law Val Lund and Gladys Lund.
There will be no calling hours and at her request a private family service will be held. Interment will be at Normal Hill Cemetery. In lieu of flowers, the family suggests donations to your favorite charity or food bank, to the American Red Cross or to the Adventist Development and Relief Agency.
Hilda, a survivor of WWII and the Blitz, the 1940-1941 bombing of London, daily remembered her family, friends and the suffering in prayer. She kept framed the following words, penned by Minnie Louise Haskins in "The Desert," and quoted by King George VI in his 1939 radio Christmas speech: "I said to the man who stood at the Gate of the Year, 'Give me a light that I may tread safely into the unknown.' And he replied, 'Go out into the darkness, and put your hand into the Hand of God. That shall be better than light, and safer than a known way.' " She left us with these words: "Life has been worth the living because He lives." Amen. We miss you Mom/Nana/Gigi/Hilda.
Offer Condolences