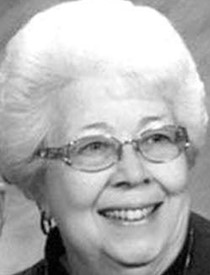 Helen Dammon
5/23/1934 — 12/10/2018
On a day that many celebrate the joys of life, it is with great sadness that our family announces the loss of our beloved Helen M. Dammon. Surrounded by family, Helen passed peacefully to her eternal home on the morning of Tuesday, Dec. 4, 2018, at St. Joseph Regional Medical Center. After a full and beautiful life of 83 years, many will grieve her loss. Those close to her are sure to transform her memory, and the many memories shared, into cherished treasures — as the best and most beautiful things in life cannot be seen or even touched, but just felt in the heart.
In the midst of the years of the Depression, in 1935, a bright light shimmered on May 23 when Helen was born in Lewiston. She was born to parents Blanche E. (Smith) Ruple and George P. Ruple. She was the youngest of three, born after her brother, Lee, and sister Joyce. Helen grew up attending the public schools in Lewiston, where she went on to high school at Lewiston Senior High.
Here is where she met the love of her life, James "Jim" R. Dammon. The two started dating in 1950 and not long after her graduation in 1953, they were married, on May 16, 1954, at Trinity Lutheran Church. In the beginning, Helen was Jim's biggest fan as he raced in local stock car races. After her graduation, Helen worked as a secretary for First Security Bank, and Jim worked as a sales manager at Clearwater Tire. They were a perfect match, and most early memories of the two include the countless years they spent enjoying their lunch break together.
Together, Jim and Helen welcomed their first child, Karla, in 1957, followed by their second, Kevin, in 1959. As a family, they spent several summers enjoying vacations, traveling all across the United States.
As the years progressed, Jim and Helen enjoyed spending their time as active members of Trinity Lutheran Church. In addition to attending Sunday services, Helen always looked forward to her time traveling with Jim, hauling the fifth wheel for more vacation fun "snow-birding" in Arizona, relaxing on the Washington coast, fishing or hunting on the Salmon River and traveling to the Hawaiian Islands. Together they were members of the Hells Canyon Boat Club, representing the family boat the "Idaho Jim," the Happy Campers Club, and Helen joined Jim at the Lewiston Elks Lodge, where they have enjoyed numerous Friday night dinners with close friends and family.
In her spare time, Helen enjoyed crafting with plastic canvas, and she often could be found working on crossword puzzles, mastering a sudoku book or keeping up to date on "The Young and the Restless" or "The Bold and the Beautiful." She also always looked forward to the luncheons organized by the First Security Bank retirement group.
Above all else, Helen's pride and joy in her later years were her seven great-grandchildren. Those close to her knew that she would take any opportunity to share numerous pictures and stories of the little ones who closely occupied her heart. Her love for them is everlasting.
Helen is survived by her husband of 64 years, James R. Dammon; daughter Karla (Tim) Broemeling and son Kevin (Lori) Dammon; grandchildren Joe (Vanessa) Broemeling, Amy (Vince) Yochum and Sara (Cory) Crews; and great-grandchildren Gavin, Everett and Paxton Broemeling, Olive and Eleanor Yochum, and Jack and Nora Crews. And let us not forget Jim and Helen's sweet dog, Kacy.
She was preceded in death by her parents, Blanche and George P. Ruple; sister Joyce Schumacher; and her brother, Lee Ruple.
"Blessed are those who mourn, for they will be comforted." — Matthew 5:4.
Helen's funeral service will be offered at 2 p.m. Friday at Trinity Lutheran Church. The service will be officiated by Pastor Scott Jurgens. In lieu of flowers, the family has asked that memorial donations be made to Trinity Lutheran Church.
Service Information
Date & Time

Friday, December 14, 2:00 PM

Location

Trinity Lutheran Church
920 8th Avenue
Lewiston, Idaho 83501

Get Directions
Offer Condolences