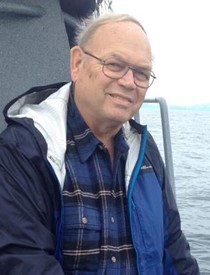 Harold William "Sparky" Heimgartner
2/6/1949 — 7/21/2023
Our beloved father and grandfather, "Poppy," to those who loved him, Harold William "Sparky" Heimgartner, a lifelong resident of the Lewiston-Clarkston Valley, passed away Friday, July 21, 2023. He was 74 years old.
Harold was born Feb. 6, 1949, in Lewiston, to Wayne and Ruth Heimgartner. He grew up on the family farm in the hills above Juliaetta/Kendrick. From a young age he showed what would be lifelong character traits of compassion, dedication, the value of family and good old-fashioned hard work. He attended school in Lapwai and graduated in 1967. Farm work did not allow for many after-school activities but as a Lapwai Wildcat he enjoyed playing football, basketball and track. We only recently learned (due to another character trait, dad's humbleness) that his high school football team had two undefeated seasons. After graduating, he attended the University of Idaho and earned a bachelor's degree in Agriculture Education. He was a member of the Uof I Farm House fraternity and had many stories to share of his time living there.
Harold met and fell in love with Carlene Lillie while attending school. They married in 1970 and spent 51 years cherishing each other, until her death in 2021. He dedicated himself to his family, his wife and their two daughters. As a father, he instilled in his children the values of love, integrity, hard work, dedication and perseverance. He gave his unwavering support and encouragement to nurturing their dreams. And every once in a while provided advice, a long-standing favorite, "it will feel a lot better when it quits hurting." Harold loved growing up and living in a small town with closeness of family and friends.
Harold worked his entire life beginning on the family farm where he raised cattle, pigs and horses. They also grew wheat, lentils and garbanzo beans. As he grew up, he worked loading wheat into train cars, worked at the U of I dairy, and ultimately began his career as an electrical contractor and owner of Sparky's Electric for over 40 years.
Harold and Carlene loved visiting both the ocean and the mountains with their family. Many wonderful memories endure from their annual trips to Lincoln City, Ore., and Leavenworth, Wash. He was always game for an adventure including a few trips rafting, sail boating with friends, bear watching in Alaska, graduation trips to Vegas and deep-sea tuna fishing.
Harold enjoyed good food and cooking. He was "family and friends famous" for his homemade caramels, and as a candy fanatic, there was always something sweet to eat in his truck or next to his chair. He loved watching wheat prices, leather working, watching TV (primarily cooking shows) and old westerns like Bonanza, Gunsmoke, and High Chapparral, fishing (although he didn't love eating fish), playing with his grandchildren, and his teams the Seahawks and Mariners. He loved animals and took care of many stray cats during his life. He loved the outdoors and in his later years he particularly enjoyed watching deer in his yard and feeding the squirrels and hummingbirds.
Harold was preceded in death by his loving wife, Carlene, and his parents Wayne and Ruth Heimgartner. He is survived by daughters Hayley (Joseph) Vincent, and Kylee (Paul McAllister) Heimgartner; and his three beloved grandchildren, Holden, Calder and Everley Vincent. He is also survived by his brother Allen (Jacie) Heimgartner; dear friends Peps and Ron Hewett; and his brother-in-law Doug (Charlene) Lillie; as well as many nieces, nephews and grand-nieces.
Harold's legacy is in the memories of those who loved him, the stories that he shared, and the unending love and selflessness that he showered upon us.
In our grief we find comfort in the beautiful memories we have. As we say farewell to our beloved father and grandfather, we celebrate his life and the mark he left in each of our broken hearts. We invite you to join us in a service to honor his life, which will be held at 10 a.m. Tuesday, Aug. 8, at Malcom's Brower-Wann Funeral Home in Lewiston. A reception will follow at Rivaura Winery, 21622 Rivaura Lane, Juliaetta.
Service Information
Date & Time

Tuesday, August 8, 10:00 AM

Location

Malcom's Brower-Wann Funeral Home
1711 18th Street
Lewiston, ID 83501

Get Directions
Condolences
Bob and Pam
Our prayers continue for the family.
We were thankful to have known Harold for the short time that we did. May God give you strength.
Tuesday, August 8, 2023 10:01 AM
Doris Clark
He was a good friend for many years. I will miss him
Tuesday, August 8, 2023 8:10 AM
Offer Condolences