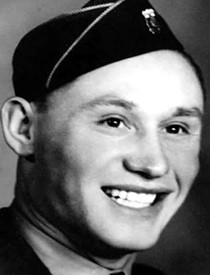 Gordon Ashcraft
11/29/1920 — 9/26/2016
World War II hero Gordon Ashcraft "Gordy" passed away Monday, Sept. 26, 2016, at the Idaho State Veterans Home located in Pocatello. Mr. Ashcraft was a longtime Idaho and Washington resident. Prior to moving the Pocatello, Gordy lived in Clarkston.
Gordon was born Nov. 29, 1920, in Saline County, Grape, Ark., to Everett Ashcraft and Ester Isabelle Phillips Ashcraft.
Gordon enlisted in the U.S. Army on Jan. 10, 1941, at Klamath Falls, Ore., and was sworn in on Jan. 13, 1941, at the Vancouver Barracks in Washington. He was assigned to Company D, First Battalion, 15th Infantry. He was discharged on Jan. 5, 1945, at Torrance, Calif. Gordon recalled his time in the Army with great pride and referred to the 15th Infantry as the "Queen of the Army." He made many friends whom he recalled as his buddies who were and still are "war heroes."
He shipped out in October 1942, part of the largest convoy to ever cross the North Atlantic, with more than 800 ships. Mr. Ashcraft fought in the Battle of Fedala, French Morocco; the Tunisian Campaign; and the Sicilian Campaign. He also served in the Italian Campaign and left the war after serving in the African-Middle Eastern theater, truly part of the "Greatest Generation."
Gordy made the rank of corporal and was proud of his service. He doubted in the beginning whether he could make the famous "Truscott Trot," 5 mph for the first hour, then 4 mph after that with a 60-pound pack, machine gun and tripod. This was much faster than the usual 2.5 mph. Gordy was honored to have served under Gen. Lucian King Truscott. He remarked in a journal about those who served that he was "proud to have put some battle streamers on the 15th Infantry flag."
Gordon married Elsie M. Hanson on June 27, 1942, who is the mother of children John and Janis. They later divorced. After the war, Gordon worked in sawmills in both California and Oregon. In 1963 he moved to Alaska and worked for Universal Services Inc. International, with a career in cooking. Gordon lived a very full life; he was an avid hunter and fisherman, gunsmith, butcher, lumber mill worker, trapper, carpenter and cook on an oil platform in Cook Inlet, Alaska. In addition, Gordon helped build a hospital in Nome, Alaska. Gordy was a fantastic cook who was making a pot of stew or chili for his friends just before moving into the Veterans Home in Pocatello.
Gordy is survived by his daughter, Janis L. Pittenger; grandson Randy Gordon Ashcraft; granddaughter Brannon E. Renfrew; two great-granddaughters, Jaycee M. Ashcraft, Sierra N. Ashcraft. His son, John E. Ashcraft, preceded him in death.
While serving in the Army, Gordon Ashcraft earned the Combat Infantry Badge, the Good Conduct Medal, the American Defense Medal, the American Campaign Medal, the European-African-Middle Eastern Campaign Medal with three campaign stars, the World War II Victory Medal and the Honorable Service Lapel Pin. These medals, lost over the years, were restored March 29, 2016, at a ceremony at the Idaho National Guard Armory in Lewiston. The medals were presented by Major Gen. Gary Sayler, who commands the Idaho National Guard.
Gordon loved to travel, and at 87 he made a trip of a lifetime come true. He traveled to Africa to hunt big game. And as anyone who knows Gordy, he got his limit. Gordon had dreamed of that trip for many years. Gordon had a zest for life and, in addition to hunting, dogs were his love. As for dogs, he had almost every kind of dog breed. He even made a hunting dog out of a Schnauzer, Rufus, who was his favorite.
Gordon had many friends in the Lewiston-Clarkston Valley. He will be missed and not forgotten. Services will be held at 2 p.m. Friday at Malcom's Brower-Wann Funeral Home, located at 1711 18th St. in Lewiston.
Service Information
Date & Time

Friday, October 7, 2:00 PM

Location

Malcom's Brower-Wann Funeral Home
1711 18th Street
Lewiston, ID 83501

Get Directions
Offer Condolences