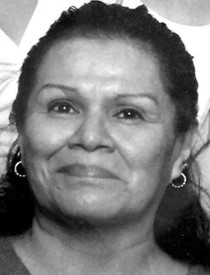 Gloria Moody
2/21/1950 — 9/5/2017
An endearing mother, compassionate friend, wise and insightful grandmother, loyal and brutally honest sister, humorous and caring aunt, and unapologetic, brave, Nimiipuu woman - all words to best describe her - our beloved Glorri Dalena Moody was called home Tuesday, Sept. 5, 2017. She had lived a purposeful life and in doing so she leaves behind a legacy in the many lives she touched.
Glorri, more commonly known as Glo or G-Lo, was born Feb. 21, 1950, in Lewiston, to the late Marijayne Garner and the late Charles Jackson. Growing up on the Camas Prairie, Glo was raised alongside her many siblings attending the Meadow Creek Indian Presbyterian Church just a few miles east of Ferdinand. It was in the church that she developed an undying relationship with her Haanyowat (Creator) and a strong faith that could not be broken - a faith that would help her overcome many of life's challenges.
Glo attended school in Lewiston and Lapwai during her elementary and middle school years. She graduated from Riverside High School in Anadarko, Okla., where she met many lifelong friends throughout Indian Country. She attended college at Lewis-Clark State College in Lewiston. Aside from the formal education setting, Glo learned traditional Nez Perce teachings from elders within her family, including Nez Perce language and songs, beading, cooking and hospitality. Glo was well known for her weaving abilities, especially her tiny basket earrings made from corn husk woven with intricate designs.
In the Nez Perce tradition, it was men who had many wives. However, that was one tradition even she would not settle for as she was a proud and liberated woman - a trait for which many Moody women are known. Glo was blessed with an abundance of love. She and Thomas Reuben had five children: Brandon Reuben, Shane Reuben, Tamara "Tamie" Obedette Reuben, Prairie Flower Reuben and Bartholomew Alyssio Moody. She and Louie Aripa were blessed with Tonia Aripa, and she and Roger Powaukee were blessed with Albert Powaukee.
Glorri Dalena Moody was preceded in death by her parents, the late Marijayne Garner and Charles Jackson; siblings Bob Miller, Maxine Miller, Travis Jackson, Conley Jackson, Frances Eagle and Russell Ford; children Brandon and Shane Reuben; and grandchild Ramon Shane Domebo. She leaves behind siblings Tonia Garcia, Adrian Moody (Paula), Ramon Eagle (Susan), Kevin Peters and Valerie Albert (Warren); children Tamara "Tamie" Obedette Reuben, Tonia Aripa (Tony), Prairie Flower Reuben (Thomas), Albert Powaukee and Bartholomew Moody; and many grandchildren and great-grandchildren.
Memorial services took place Friday at the Pi Nee Waus Community Center in Lapwai. Funeral services will take place at 10 a.m. today at the Meadow Creek Indian Presbyterian Church, a few miles east of Ferdinand. A dinner will follow the funeral at 2 p.m. at the Pi Nee Waus Community Center in Lapwai. The family is requesting everyone who is in attendance to wear Glo's favorite color: violet/purple.
Service Information
Date & Time

Saturday, September 9, 10:00 AM

Location

Pi-Nee-Waus Community Center
99 Agency Rd.
Lapwai, ID 83540

Get Directions
Offer Condolences