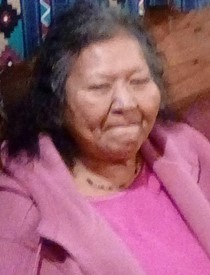 Gloria George
2/23/1948 — 9/17/2020
Gloria Jean Broncheau George passed away Monday, Feb. 17, 2020, because of complications of cancer.
Gloria was born Feb. 23, 1948, to Alvina Powakee and Leo Broncheau. She was born to a traditional family, learning all the trades, digging, gathering, beading and dancing.
Her children are Sustina George, Gabriel George, Frank Tiny James, Jessie James (deceased), Bernadette, Tony George, Don Howtapat, Joe Howtapat and Leo George (deceased). She is survived by aunt Katsy Jackson and uncle Butch McConville.
A dressing will be held at 2 p.m. today at Little Red Longhouse followed by sunrise services Monday at the same location. Lunches will be handed out afterward. Burial will be at the Broncheau family cemetery in Spalding.
Offer Condolences