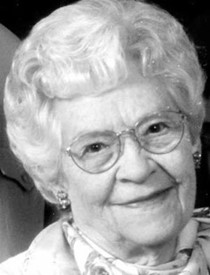 Gloria Anderson
4/3/1923 — 4/14/2016
Gloria L. Anderson's prayers were answered on Thursday, April 14, 2016, at the age of 93. She passed away peacefully at her daughter's home on the Flat Iron in the Waha area. Gloria was born to Arjie A. Heckman and Minnie W. Allenspach Heckman on April 3, 1923, at the family home on the Flat Iron. She spent her childhood years there, racing over the hills and attending the Flat Iron School through the eighth grade. She attended Lewiston High School for one year.
Gloria married Elbert E. Anderson on March 29, 1943, in Lewiston. Soon after, they moved to Sacramento, Calif., where Elbert was stationed in the Army. In Sacramento, Gloria worked at an egg candling company and a packaging company. After Elbert was discharged in 1945, they returned to the Flat Iron, where they lived until moving to Lewiston in 1957. They built their family home in the Lewiston Orchards, where they lived together until Elbert's passing in 2006. Gloria remained at the family home by herself until a week before her passing. They raised two sons and a daughter.
Gloria spent her life being a devoted rancher's wife and loving mother. She enjoyed her independence, raising roses and African violets, collecting vases, all of God's beauty and spending time with her family. No family gathering was complete without Mom's potato salad. She was an amazing lady with a kind soul.
Survivors include a daughter and her husband, June and Vern Jeter, a son and his wife, Joe and Janet Anderson, and daughter-in-law Billie Malicoat, all of Lewiston; sister Birdie Jackson of Lewiston; five grandchildren; three great-grandchildren; six step-grandchildren; 11 step-great-grandchildren; and numerous nieces and nephews.
She was preceded in death by her parents; sisters Amanda Jackson and Margaret Butler; brother Wayne Heckman; husband of 63 years, Elbert; and her son, Stanley Anderson.
Celebration of life will be at 10 a.m. Wednesday at Malcom's Brower-Wann Funeral Home in Lewiston, with a graveside service following at Lewis Clark Memorial Gardens in Lewiston.
Celebration-of-life donations may be made to the organization of your choice. There will be no reception.
You will be missed Mama/Grandma/Gramma Snoopy!
Service Information
Date & Time

Wednesday, April 20, 10:00 AM

Location

Malcom's Brower-Wann Funeral Home
1711 18th Street
Lewiston, ID 83501

Get Directions
Condolences
M Jones
I would like to offer my sincere condolences for your loss. I hope the family will find some comfort and strength in Jesus promise of the earthly resurrection, when Jesus will restore life to the dead(Acts 24:15)and the renewed Paradise earth, where death will be no more and no family will mourn the death of a loved one.-Revelation 21:3,4;John 5:28,29;Luke 23:43. May GOD(Psalms 83:18)grant you peace and comfort now, during this grievous time.-Matthew 5:4.
Monday, April 18, 2016 10:07 AM
Offer Condolences