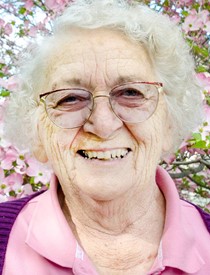 Gladys Sullivan
7/22/1927 — 7/11/2020
Gladys Sullivan, 92, a 60-year resident of the Cavendish/Teakean area, passed away Saturday, July 11, 2020, at Brookdale Assisted Care in Lewiston.
Gladys was born July 22, 1927, to August F. and Meta Schutz Wegner and grew up on their farm near Cameron, Idaho. She graduated from Kendrick High School and obtained her teaching certificate at Lewis-Clark Normal School.
Her first teaching position was in Washtucna, Wash. That was where she met Dan Sullivan. They later married Feb. 29, 1948, at Cameron, Idaho.
In 1949, they purchased a farm in the Cavendish area. This is where they raised their family of four. Gladys was not only a farm wife and mother; she was also a substitute teacher at the two-room Cavendish/Teakean School for grades first through eighth.
Gladys was a baptized and life-member of the Cameron Emmanuel Lutheran Church near Kendrick. She was an active member of the church's Ladies Aid group and embroidered many pillow slips and kitchen towel sets. She helped to tie quilts for the annual dinner and bazaar fundraiser each year and to sew hundreds of relief quilts that the church sent to other countries.
Gladys took pride in growing fruits and vegetables and preserving them for her family. She loved growing flowers and maintained a beautiful yard. She raised and sold chickens and eggs and helped in the production of their cattle herd. Gladys was a 4-H leader in her community and an election official. Gladys and Dan worked many hours to improve and preserve the community LeBaron Park outside Cavendish and felt rewarded when people left comments in the park register. Each fall, she assisted with the Clearwater County Fair, helping people place their exhibits and later judging exhibits.
In 2010, they sold their beloved farm and retired to Lewiston, close to family and friends.
Gladys was preceded in death by her parents and her three brothers, Glen, Wayne and Vern Wegner; her husband, Dan; her eldest daughter, Joanne McAllister, and her husband, Ralph McAllister.
Survivors include a daughter, Lynda (Bob) Roberts; sons Randy (Durelle) Sullivan and Dale (Christy) Sullivan; eight grandchildren, Kevin (Angie), Eric (Kathy), Jenifer (Jamie), Mark, Col, Stephanie, Dayne (Lindsey) and Clint (Robyn); eight great-grandchildren, Ashtyn, Riley, Blake, Brynn, Jake, Dylan, Nellie and James; and many nieces and nephews.
A celebration of life will be held at a future date. Memorial contributions can be made to Elite Home, Health, and Hospice at 1370 Bridge St., Clarkston, WA 99403; Cameron Emmanuel Lutheran Church, 12633 Cameron Road, Kendrick, ID 83537; Willow Center for Grieving Children, P.O. Box 1361, Lewiston, ID 83501; or to a charity of your choice.
Offer Condolences