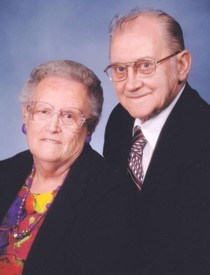 Gladys Mosher
8/7/1918 — 11/5/2020
Gladys G. Mosher, of Lewiston, passed away the evening of Thursday, Nov. 5, 2020, while residing at Royal Plaza Health and Rehabilitation.
She was born Sept. 7, 1918, at the family farm near Amboy, Minn., to Albert J. and Anna Bingham Stauffer. She was the third youngest of eight children. She graduated from Amboy High School in 1936 and attended Mankato Teachers College. In July 1940, she met a young man who had purchased a new car in Detroit and was returning home to Republic, Wash. In her words "He was good looking, tall and a real nice man." The young man found himself at the family farm looking for work to earn gas money to return home. On Oct. 12, 1940, after only a few short months, she married Wilbur Freet in Coeur d'Alene. The couple moved to Tacoma, where Wilbur worked at the local shipyard. It was during this time they had two daughters, Rose Mary and Shirley. After the war was over, the family returned to Republic.
In 1947, Wilbur was killed while working at the local mine. After another short romance, she married Kenneth G. Mosher and lived in Kellogg, Idaho, where Kenneth was employed at the Sunshine Mine. In 1950 after a mine scare, the couple moved to Lewiston. They were married 49 years, until Kenneth's passing in 1998.
While living in Lewiston she was employed at Payless Drug, Big V and Great Western. She grew many beautiful roses and every spring planted a large glad garden. During the summer months there was always a vase of colorful glads on the kitchen table. She loved to sew, making baby quilts for her grandchildren and great-grandchildren.
After retirement, she and Kenneth spent good times fishing for kokanee on Lake Pend Oreille. In 2007, she moved to Royal Plaza, where she resided ever since. Survivors include daughters Rose Mary Krueger, of Lewiston, and Shirley Grubbs, of Medina, Ohio; son-in-law Harold and (Ruthie) Krueger, of Lewiston; grandchildren Paul and (Kelli) Krueger, of Lewiston, Brad and (Anne) Krueger, of Spokane, Sarah and (Wes) Showers, of Lewiston, Melinda and (Steve) Cibula, Rhonda and (Clay) Perkins, Diane and (Matt) Whitelaw, all of Ohio; 16 great-grandchildren; seven great-great-grandchildren; and six nephews.
She was preceded in death by husbands Wilbur Freet and Kenneth Mosher; her parents; seven siblings; and son-in-law Paul Grubbs.
Viewing will take place from 2-5 p.m. Nov. 16 at Malcom's Brower-Wann Funeral Home at Lewiston. A private family ceremony will take place at a later time. Memorial donations may be made online or mailed to Shriners Hospitals for Children, 911 W. Fifth Ave., Spokane, WA 99204.
Offer Condolences