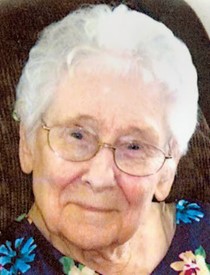 Gertrude Heimgartner
8/2/1915 — 12/25/2017
Gertrude was born Aug. 2, 1915, in Juliaetta, the youngest of nine children, to Samuel and Lela Belle Gruell. She died Christmas morning at Royal Plaza in Lewiston, of natural causes.
She graduated from Juliaetta High School in 1933 and married Eldon Heimgartner on Dec. 12, 1934. They farmed for 56 years in the Stoney Point area of Potlatch Ridge. Gert and Eldon had three sons: Eugene, born in 1936; Gerald (Gary) born in 1940; and Larry, born in 1948.
Gert was an avid quilter and was for many years a member of the Friendship Club, a quilting group featured on the local PBS station in the early 1990s. Her hand-stitched quilts are treasured by many. She was an avid reader until her eyesight failed. On the farm, she enjoyed canning the many fruits and vegetables she grew in her garden. She also was well known in the family for her bountiful holiday dinners, which always included at least three varieties of pie - all delicious.
In 1996, she and Eldon sold the farm and moved to Royal Plaza in Lewiston, where they enjoyed retirement. They were longtime members of the Cottonwood Creek Community Church.
She was preceded in death by Eldon in 2009; son Eugene in 2012; and her eight siblings. She is survived by two sons and their wives, Gary and Vanessa of Arizona, and Larry and Sherry of Montana; six grandchildren; and nine great-grandchildren.
Condolences
Emily
I am very sorry for your loss. My heart goes out to you in this difficult time. I know it's hard to go through this pain, but I hope you may find comfort in knowing that God cares about how you feel and that He promises that "there is going to be a resurrection." (Acts 24:15) (1 Peter 5:7) Won't that be wonderful to see our loved ones again!
Friday, January 12, 2018 9:12 AM
Offer Condolences