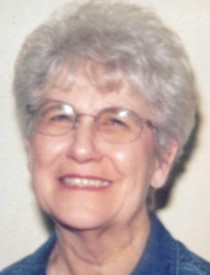 Geraldine Johnson
1/5/1933 — 1/26/2020
Geraldine "Gerrie" M. Johnson died Sunday, Jan. 26, 2020, at the age of 87.
Gerrie was born Jan. 5, 1933, at her aunt's home in Clarkston, to Hazel and Arthur Meier, of Peck. She was the middle child of the three daughters of Arthur and Hazel. She attended Meier Grade School through the fifth grade; she then went to Reubens High School, where she graduated in 1950. After high school, she attended Kinman Business University in Spokane, graduating in 1951.
Her first job was with Nez Perce Tractor Co. in Lewiston. She worked there for approximately a year until her marriage March 23, 1952, to Carl E. Johnson, whom she had met while attending Kinman, as he was in the U.S. Air Force and stationed at Fairchild Air Force Base in Spokane. They lived in Spokane for a short time before Johnny, as he was known to everyone, was transferred to Smokey Hill Air Force Base at Salina, Kan. While there, they lived in Lindsborg, Kan., a small town approximately 20 miles from the base. Gerrie worked at a Mutual of Omaha Insurance Co. office in Salina until becoming pregnant with her first child, Debra Lee.
After being discharged from the Air Force, Johnny worked for Gerrie's father for a while and they lived in the country. Their second child, a son, Guy Eugene, was born during this time. Johnny decided he wanted to take advantage of the G.I. Bill and started school at the University of Idaho, where their family lived in Vets' Village. During this time, Gerrie worked at the electrical engineering experimental station at the university. Two more children, Brad Arthur and Lori Ann, joined the family.
The family then moved to Lewiston, with Johnny teaching and later becoming principal at Lapwai High School, and Gerrie becoming a legal secretary. She first worked for Thomas W. Feeney and Frank V. Barton; then for the firm of Blake, Givens and Feeney; then Blake, Givens, Feeney and Clark; then Clark and Feeney. In all, she spent 35 years as a legal secretary. She retired in 1994. After 33 years of marriage, Carl died July 19, 1985.
Gerrie married Floyd W. Harvey in 1994. They traveled extensively, visiting Australia, New Zealand, Fiji Islands, Africa, England, Ireland, Scotland, China, the Holy Land, Turkey, Hawaii, Mexico, Alaska, Costa Rica and a cruise around South America and through the Panama Canal. Gerrie's greatest joy was having family gatherings, being with her family, shopping and bringing gifts home to her family. Floyd died Aug. 13, 2010.
She was a member of the Orchards United Methodist Church since 1964, and had served as secretary, ad council chairman, pastor-parish chairman, treasurer and on many committees, as well as singing with the choir or worship team. After retiring, she worked one morning a week in the church office, and helped with putting the weekly bulletin and monthly newsletter out.
Gerrie is survived by her four children, Debbie (Dave) Yeoman, Guy (Kathy) Johnson, Brad (Terri) Johnson and Lori (Greg) Edwards. She is also survived by eight grandchildren, Sarah (Rich) Schaefer, Evan (Marni) Yeoman, Abby (Andy) Pottenger, Clayton (Morgan) Johnson, Benjamin Johnson, Jacob (Katie) Johnson, Justin (Rachel) Edwards and Anna (James) Gray; also by great-grandchildren Janie Schaefer, Max (Cheyenne) Schaefer, Paige (Marvin) Leister, Faith Yeoman, Morgan Fields, Ethan Yeoman, Oliver Johnson, Adelynn Gray, Nathan Gray, Samantha Edwards, Adam Edwards, Elijah Edwards, Alexander Edwards, Griffin Pottenger, Nash Pottenger and Lennox Pottenger; and by her great-great-grandchildren, Colt Earl and Ryker Schaefer. She is also survived by her two sisters, Jackie Brammer and Rosalyn (Bill) Stellmon; and numerous nieces and nephews.
Gerrie was preceded in death by her husbands, Carl E. Johnson and Floyd W. Harvey; and her parents, Arthur and Hazel Meier.
The funeral will be held at 2 p.m. Wednesday, Feb. 5, at Orchards United Methodist Church, 1213 Burrell Ave., Lewiston. Memorials may be given to the Orchards United Methodist Church; or to a charity of your choice.
Service Information
Date & Time

Wednesday, February 5, 2:00 PM

Location

Orchards United Methodist Church
1213 Burrell Avenue
Lewiston, Idaho 83501

Get Directions
Offer Condolences