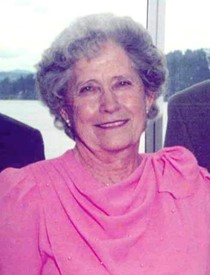 Geraldine Cass
12/15/1929 — 5/27/2020
Geraldine Cass, 90, passed away peacefully, Wednesday, May 27, 2020, at Royal Plaza Retirement Center, in Lewiston.
Jerry was born Dec. 15, 1929, in Lewiston, to Marjorie and Birlea Marvel. Jerry grew up in Lewiston with her twin brother, Gerald. She graduated from Lewiston High School. Jerry met Ronald Cass in 1946 and they were married in Clarkston on Sept. 24, 1948. They made Clarkston their home and their son, Michael, was born in 1952. In the fall of 1952, the family moved to Moscow.
Jerry was a homemaker and enjoyed baking, cooking and canning. Ron and Jerry opened Moscow Upholstery, and they both ran the business until retirement in 1992.
Jerry and Ron were married for 69 years. She was preceded in death by her husband in 2018 and twin brother in 2019. Jerry was well known in the Moscow community and very devoted to family and friends. She enjoyed the outdoors, fishing, camping and boating. She is survived by Michael at home.
A private graveside memorial will be held at a later date at the Moscow Cemetery.
Offer Condolences