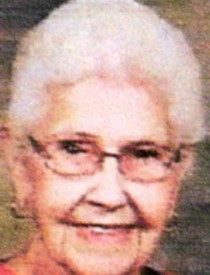 Geraldine Anderson
6/13/1936 — 10/19/2018
Geraldine "Jeri" Rebecca Anderson passed away Friday, Oct. 19, 2018, in Lewiston, Idaho. A memorial service will be held at 2 p.m. Saturday at Emmanuel Baptist Church in Lewiston. She was born June 13, 1926, in Ringling, Okla., to Danial and Lessie (Driskell) Cathey.
Jeri was raised in Ryan, Okla., and moved to Brawley, Calif., where she married James Earl Anderson on April 25, 1943. They lived in Porterville, Calif., where they raised two children, Patricia Jean and Jimmy Ray.
After they retired, they returned to Ryan. James passed away July 8, 2007. In 2010, Jeri moved to Clarkston to be close to family. She was affiliated with Emmanuel Baptist Church in Lewiston.
Jeri is survived by her brother, James (Goldie) Cathey of Duncan, Okla.; sister Jenny (Bob) Durham of Ryan; daughter Patricia Jean Adelsbach of Clarkston; son Jimmy Ray (Lesli) Anderson of Lewiston; grandson Greg and (Stephanie) Adelsbach of Clarkston; two granddaughters, Kristi and (Chris) Herzberger of Bonney Lake, Wash., and Alexandria (Derek) Peters of Lapwai; three great-granddaughters, Josilin Lanae Peters of Lapwai, Danae (Luke) Olson of Clarkston and Danielle (Joe) Robinson of Clarkston; two great-grandsons, Bailey Boyd Peters of Lapwai and Doug Adelsbach of Seattle; great-great-grandsons Ty and Lincoln Robinson of Clarkston; and numerous nieces and nephews.
She was preceded in death by her husband, James Earl Anderson; brothers Charles (Chick) Cathey and Douglas Cathey; and son-in-law Pete Adelsbach.
Malcom's Brower-Wann Funeral Home is in charge of arrangements. Memorials may be sent to Kindred Hospice, 1610 N.E. Eastgate Blvd., suite 610, Pullman, WA 99163; (509) 332-2236.
A graveside service will be held in Ryan at a date to be announced later.
Offer Condolences