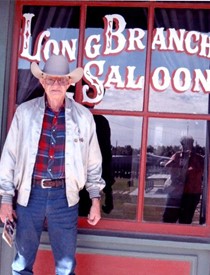 Gerald F. Van Buren
3/8/1941 — 12/30/2021
Gerald Frederick Van Buren ("Squire" to all his old drinking buddies and friends) passed away peacefully at his home Thursday, Dec. 30, 2021, from congestive heart failure. He was 80 years old.
Born March 8, 1941, at Ritzville, Wash., to Karl and Esther Buscher Van Buren, he joined his older sister Mildred and brother, Don. Gerald was raised at Ritzville until 1957 when the family moved to Tammany to farm. He loved driving tractor and was always glad when spring came so he did not have to feed the cows and could go to working the soil. He loved driving tractor, even the older ones without cabs.
He worked for several area ranchers including Ralph Nichols, Thiessen Ranch, Wittman Bros, Kaufman farms, Jim Weiss, and also hauled horses and cattle for Wendell Mathison.
Gerald was active in 4-H and FFA, both at Ritzville and the Nez Perce County Fair in Lewiston. He showed livestock at the Junior Livestock in Spokane. He really enjoyed working with the show animals and also spent many days helping his girls with their 4-H projects — usually helping break them to lead!!
Gerald graduated in 1959 from Lewiston High School. It was quite a shock from coming from a class of about 50 to a class of more than 200. He made many lasting friendships from the Lewiston class. He was also honored by the Ritzville Class of 1959 being invited back to their class reunions, something which he really enjoyed, renewing old friendships and visiting about the good old days.
In 1966 he was drafted in the United States Army, April 14, 1966, serving at Fort Ord, Calif., and in 1967 was sent to Vietnam for one year. He served with the engineers, building runways at night so the Viet Cong could blow them up during the day. He received an honorable discharge April 12, 1968, receiving the National Defense Service Medal, Vietnam Service Medal, Vietnam Campaign Medal and Good Conduct Medal.
Gerald and Patricia Heuett were married Feb. 15, 1969, at Lewiston and had been married 52 years. All their married lives, they loved being on the farm and enjoyed several trips to Wyoming and a trip to Oklahoma, which they both really enjoyed seeing new country and visiting some new family. When they started on their trip, his only wish was to go to Texas and buy cowboy boots and a new hat, which they did at Amarillo, Texas. He enjoyed seeing Dodge City and the redone Front Street. He was looking for "Miss Kitty" but only found the Long Branch Saloon!! He enjoyed the Pro Rodeo Hall of Fame at Colorado Springs, Colo., seeing the wonderful displays of rodeo members. He also enjoyed the Buffalo Bill Museum at Cody, Wyo., and always wanted to go back.
His best thing from the last several years was to watch rodeo on TV and all the tractor shows as well as old Western movies. John Wayne was his favorite to watch. He also enjoyed the History Channel and looked forward to each new season of "The Curse of Oak Island" and "Counting Cars," which he really enjoyed. He said the new Cowboy Channel was the best thing ever added to the TV lineup. All those rodeos on one station and he could watch them all day long. Sunday mornings were the best time ever spent with special friends at breakfast.
Gerald was a member of the Nez Perce County Historical Society and the National Rifle Association. He enjoyed time spent on tours of the local areas, learning about the history of that area, especially the trips planned by the late Mike Dill, of Winchester.
He also spent many hours volunteering at the Nez Perce County Fair helping not only his girls, but other members with the beef animals if needed. He really enjoyed watching all the young members grow up and do very well with their projects.
Gerald is survived by his wife, Pat; daughters Lynette (Jeff) Kinzer and Karla Manchester (Ted Allison); grandson Thayne Manchester; three stepgrandchildren, Zack, Bailey and Chase; and stepgreat-grandson, Grayson; brother Donald and his family; sister Mildred and her family; sisters-in-law Sally Heuett, Evabelle Heuett and Angie Heuett; and many nieces, nephews, cousins and friends.
He was preceded in death by his parents, Karl and Esther Van Buren; brothers-in-law John Olden, Jack Heuett, Marvin (Lorene) Heuett, Frank Heuett, Claude Heuett; and sisters-in-law Barbara Van Buren, Marie (Cal) Dickenson and Betty (Leo) Carrithers.
Memorials can be made to the Joe Thometz 4-H Scholarship Fund or to the Nez Perce County 4-H Stock Sale Fund, 1239 Idaho St., Lewiston, ID 83501; or to Elite Home Health and Hospice, 1370 Bridge St., Clarkston, WA.
The Van Buren family would like to thank David and Shannon Van Buren, Ketcher and Kason Van Buren, Ron Van Buren, Mark and Joanie Wittman, Bill and Sherry Cochran and Fred and Bea Fridley; Elite Home Health caregivers Sam, Emmie, Megan, Sarah, Jody, and Olivia, and whoever else helped and all the offers of help during the past several months. We cannot ever repay all your kindness, thoughts and concern you expressed. We are so blessed to have such good friends and family.
Private graveside services will be held. A memorial will be held in the spring as weather conditions permit.
Offer Condolences