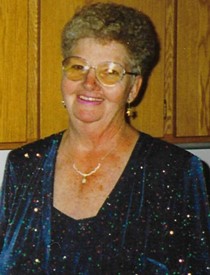 Georgine "Jody" Hill
11/11/1935 — 9/29/2019
Jody Ralstin Hill passed away Sunday, Sept. 29, 2019, with three generations of loving family by her side.
She was born Nov. 11, 1935, to Chub and Alma Oertle-Ralstin. Raised at Spalding, Jody spent many hours riding horses, swimming and playing in the Clearwater River.
She attended school at Spalding and Lapwai, and later raised her family at the home by the river. A few of her hobbies included mushroom and huckleberry hunting and crocheting beautiful afghans. She married the love of her life, Dick Hill, on May 18, 1991.
Jody worked at Dean's Drug for Kent Dean, who continued to be her lifelong friend. She also worked for the Carpenter's Union for 13 years as secretary/dispatcher.
She is survived by her husband, Dick Hill, of Spalding; her children, Patrick Davis (Fay), of Fairbanks, Alaska, Dianna Alfrey (Butch), of Lapwai, Don Wilfong, of Lewiston, and Ron Wilfong, of Spokane; her grandchildren, Sandra Alfrey, Eric Alfrey, Michael Wilfong and Jordan Alfrey; and her great-grandchildren, Jassmin, Jaide and Jerica Wilhelm; Madison, Gabe, Tylee, and Kambel Alfrey; and Sam, Harrison and Susanna Wilfong.
Jody was preceded in death by her father, Chub Ralstin, and her mother, Alma; Oertle Ralstin; son Gary Davis Wilfong; sisters Joy Schroder and Helen Coleman; and brother Lewis Ralstin.
We will miss her smile, wit and unfiltered sense of humor.
A celebration of life will be held at a later date.
Condolences
From the Hap Ralstin group
Hello to the grandchildren of Chub Ralstin. So sorry to hear of Jody passing. From the children and grandchildren of Chub's brother Hap Ralstin. Vicki
Thursday, December 26, 2019 1:10 PM
Kay Keller
Ours was an instant friendship always to be valued and remembered.
Sunday, December 1, 2019 11:43 AM
Offer Condolences