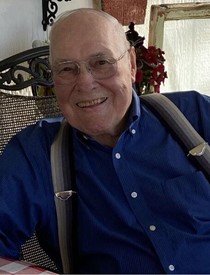 George (Lane) Dayton
5/31/1933 — 7/29/2022
Surrounded by family, George "Lane" Dayton left this earth to join his Heavenly Father early Friday morning, July 29, 2022.
Lane was born May 31, 1933, in Wilford, Idaho, to Henry Claude and Mildred Dayton. Lane was the third of four children. He was raised on the family farm and learned the value of hard work at an early age. He attended high school at St. Anthony High in St. Anthony, Idaho. He served in the military from ages 17-19, and then attended Ricks College, in Rexburg, Idaho. Lane married his sweetheart, Bette Ruth Batton, on July 30, 1957. He passed away the day before their 65th wedding anniversary. Together, they raised five children, Lane's sons, Randy and Brad, from a previous marriage, and their children, Trent, Liz and Brett.
Lane held a variety of jobs in his life. He worked for the railroad, the telephone company, a potato shed, a car dealership, drove truck, sold trailers and eventually ended up with Weisfield Jewelers in Boise. Weisfield Jewelers opened the door for him to move to Lewiston in 1963 to manage the Weisfield store. After moving to Lewiston, Lane also became licensed as a financial adviser and life insurance salesman. If that wasn't enough to keep him busy, he began buying rental properties and was an active landlord up until a few weeks before his death.
It was also during this time that Lane's life was changed in a very big way. In October 1963, Lane learned about the gift of Salvation and accepted Christ as his Savior. He felt a call from God to become a minister of the Gospel and answered that call. He became a pastor of the Bible Missionary Church of Lewiston from 1971-2004. Lane's life was forever changed when he met Jesus. As a pastor, Lane dearly loved his congregation. He would often address them as "Dear Hearts" as he shared the message God had given him. He would share with new Christians what the preacher told him the day he got saved — he said, "you have to put your head on the slow train, and your heart on the fast express." Together with Bette, they ministered to hundreds of people.
Lane's legacy can be seen through the many lives he touched in his ministry, and it wasn't confined to the inside of a church building, it spread throughout the community. If you spent even a few minutes visiting with him, he would always find a way to work into the conversation the message of the Gospel. Renters, the mailman, nurses, home health workers, repairmen, store employees … he found a way without creating any pressure to tell of the love of Jesus and the message of Salvation.
As far as Lane was concerned, strangers were just people who weren't friends yet. He would strike up a conversation with anyone, and was usually trying to make a deal before the conversation was over … "What can I trade you for that hat, that cane, that belt buckle?"
It's hard to summarize a life in a few paragraphs, especially when you loved living it as much as Lane did.
Lane's love for living was evident. He lived life with passion. Surviving multiple heart attacks, open heart surgery and numerous health hurdles — his family joked that he had nine lives and Jesus, but it had to be Jesus keeping him alive. He fought so hard to live. Lane valued quality time, and he deeply loved his family. He was blessed to have many of his close relatives living within minutes of his home. When his family would visit him in the last few years of his life, he would say, "I know I should be ready to go, but I just love living." His eyes would light up when people walked through the door. He could usually be found sitting in his favorite chair in his office with a toothpick in his mouth and a Kleenex in his pocket working on a sudoku, word search or crossword puzzle. He used these puzzles to keep his mind sharp and active.
Lane was an avid outdoorsman, enjoying hunting, the river and snowmobiling, but his favorite thing was fishing. He was a skilled fisherman and shared this hobby with anyone who wanted to join him. He spent the last several summers of his life at his summer home on the Keani River in Alaska fishing for sockeye, silvers, and the reds. He spent September through May talking about and anticipating when he could get back to Alaska.
Lane is survived by his sweet wife, Bette; his children Liz and Ken Edwards, Brett and Donnetta Dayton, Trent and Bekah Dayton, and Randy and Chris Dayton. His grandchildren Abe, Sara "the Bear," Lea, Tyrel, Boston, Lane, Joanna, Lori, Craig, Jamie, Matt, Lance and Crystal, and 19 great-grandchildren. He is also survived by numerous other family members, including his niece, Dora, who spent the last eight weeks of Lane's life assisting Liz with caring for Lane and Bette. He was preceded in death by his parents, his brother Gene, sister Cheri, and his son, Brad.
The family would like to thank the incredible staff of St. Joseph Regional Medical Center for the compassionate care of Lane in his last few days, and also the EMS crews who assisted with his transports. Their kindness and assistance were greatly appreciated.
If Lane was writing this himself, he would want to end with this — we have hope in Christ. His favorite scripture verse was Hebrews 12:2 — "Looking unto Jesus, the Author and Finisher of our faith; who for the joy that was set before him endured the cross, despising the shame, and is set down at the right hand of the throne of God." Lane was not ashamed of the Gospel of Christ.
The family suggests that in lieu of flowers, memorials may be given in Lane's honor to Gospel Publishing Mission via Faith Bible Church, 514 Warner Ave., in Lewiston.
Malcom's Brower-Wann Funeral Home of Lewiston is in charge of arrangements. A viewing will be held from noon to 6 p.m. Monday at the funeral home at 1711 18th St., in Lewiston. A celebration of his life will be held at 11 a.m. Tuesday at CrossPoint Alliance Church, 1330 Powers Ave., in Lewiston.
Service Information
Date & Time

Tuesday, August 9, 11:00 AM

Location

CrossPoint Alliance Church
1330 Powers Avenue
Lewiston, ID 83501

Get Directions
Offer Condolences