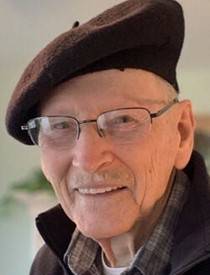 George Edward (Ward) White III
10/26/1928 — 11/5/2023
George Edward (Ward) White III was born October 26, 1928, in Takoma Park, MD, the middle child of George Edward White Jr. and Marion Ethel Whitcomb. He passed away on November 5, 2023, of old age.
Ward grew up in Cape May Courthouse, NJ, at the onset of the Great Depression and fell in love with the ocean. By the time the Depression ended, they were back in Takoma Park where his dad was a printer and drove cab in DC during the war. While his father had treatments for cancer he dropped out of high school for a few years to take care of the family gas station. He also worked there after high school and after his father's death. When the family was able, they went to Wildwood, NJ, to help in his grandad's candy store. The Jersey Shore (and all salt water) has called to him and his family ever since.
He met Minnelee Smith when they were small children because their fathers were good friends. When she moved to Takoma Park for college and nursing school, they met again, fell in love and married.
Soon after, he was shipped to Berlin, Germany, for his stint in the army. While there, he was a medic, giving injections and scrubbing in surgery. On the lakes around Berlin he developed a love of sailing. He later built his own small sailboat and taught his children the joy of sailing.
On his return to the states, he was able to attend college at James Madison University on the GI Bill and became an accountant. He also took art classes while at JMU and gained the skills and a lifelongpassionforpaintingandcopperworks. WhileworkingfortheSeventh-dayAdventist denomination in New Jersey, Ohio and California, and after his retirement in 1994, he used his pen and ink skills to help redesign churches everywhere he went.
He and Minnelee had two children with whom he enjoyed playing catch, going camping in Florida and building stilts.
Minnelee passed away in 1995. A few years later, he met and married Doris Meinhardt. They were married for 21 years, living in Elizabethtown, NC, then Chattanooga, TN, until she passed away in 2020.
Ward lived with his son, Ron, in Virginia, and his daughter, Elaine, in Idaho, for the past 3 years. He enjoyed trips to the Jersey Shore, Oregon Coast, Boise and most recently, trips to "local towns" and restaurants with his caregiver, Mike.
Ward is survived by his son, Ron (Debbie) White, his daughter, Elaine (Don) Soloniuk, 6 grandchildren and 5 great grandchildren.
Offer Condolences