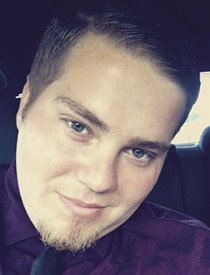 Fredrick (Ricky) Roy
11/4/1993 — 2/2/2018
Fredrick Dean "Ricky" Roy Jr. passed away Friday, Feb. 2, 2018, in Lewiston. He was 24 years old.
Ricky was born Nov. 4, 1993, in Lewiston, to Corrina M. Barden. He was raised by his mom and Russell D. Barden, his dad. He grew up in the area and positively impacted many lives throughout his life.
Ricky was never a man to play by the book. He chose to stop attending school in ninth grade and instead went straight to take his GED diploma. He passed with flying colors and advanced to college. Ricky was wise beyond his years and was a phenomenal writer. He proved that he could do anything he wanted - but only on his terms. He had a beautiful mind that matched his soul.
Music was his first love. He first started playing guitar when he was 8 or so and ran with it. He learned to play the drums, mastered "Guitar Hero" and wrote his own music. He was self-taught and could master anything he loved. He found his passion in sales, specifically car sales. He loved researching and learning anything he could about the things he loved. His mind was always working and wandering for more knowledge. If he didn't know the answer, you could bet he'd find it.
Above all else, Ricky was a friend. He loved his family, friends and girlfriend, Aisha, wholeheartedly. He could light up a room with his sly smile and was always there for the people he loved. This was most apparent in his time and care he gave to his nana. He loved his wiener dogs and having fun. Once you got past his quiet exterior, he was open and welcoming to everyone.
Ricky is survived by his parents, Cori and Russ, of Lewiston; his brothers, Alex D. and Tony C. Barden; his nana, Darlene M. Buckley; and grandma Marie L. Barden. He also leaves the love of his life, Aisha B. Lauber; his stepparents, Tammy L. Barden and Randy W. Brockman; his stepsisters, Holley A. Hopkins, and Kammi L. and Kelsey M. Brockman. He also is survived by several aunts, uncles, cousins, nieces and friends. He was preceded in death by his brother, Michael C. Mitchell; his papa, William J. R. Buckley; his grandpa, Vern Barden; and stepbrother Jason Hopkins.
A viewing will be held from 3 to 7 p.m. Friday at Malcom's Brower-Wann Funeral Home, 1711 18th St., Lewiston. The service will be held at 11 a.m. Saturday, also at Malcom's.
Service Information
Date & Time

Saturday, February 10, 11:00 AM

Location

Malcom's Brower-Wann Funeral Home
1711 18th Street
Lewiston, ID 83501

Get Directions
Offer Condolences