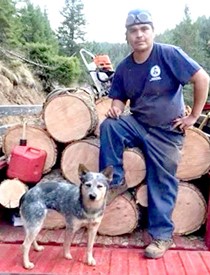 Franklyn Taylor
3/3/1981 — 7/25/2021
Franklyn Ray Taylor (icteleeyheyx), 40, of Lapwai, was born March 3, 1981, to Phillip and Kathy Taylor in Lewiston, joining his older sister, Tanya. He entered into rest Sunday, July 25, 2021, with his mom and dad at his side in Spokane. He was a member of the Nimiipuu Nation, the Nez Perce Tribe (NPT).
Franklyn was the namesake for both his maternal and paternal grandfathers and he was proud to carry on their names. As a child, Franklyn was on the go and full of imagination. His imagination would take him to the underground with the Ninja Turtles, to driving cars and trucks across the floor, and to playing with many action figures who flew the skies. He and his sister were inseparable and where one would go, the other would follow. Franklyn and Tanya could go from wrestling to hugging in a heartbeat and no one could pick on his sister without him protecting her.
From grade school through adulthood, Franklyn enjoyed playing many sports. In grade school, he played football with the Baby Wildcats, Boys and Girls Club basketball, and baseball with the Parks and Recreation club. He played T-ball, Little League and Babe Ruth baseball, which continued into high school. In his junior year of high school, he began playing golf and it evolved to be a passion of his into adulthood. Franklyn was proud to be a true Lapwai Wildcat, and he was grateful to be a part of the Lapwai Wildcats' state basketball championship team in 2000. Franklyn also picked up a passion for playing competitive darts. Franklyn participated in team dart tournaments, placing first in the Fall Dart League in 2005, second in the Winter Dart League in 2005, and third place in the Fall Dart League in 2006. His cousins remember in humor how he wouldn't let them learn darts unless he was there to coach them. In addition to participating in sports, Franklyn was an extremely proud Seattle Seahawks and Kansas Jayhawks fan. He enjoyed cheering on (and defending) his teams with his many family members and friends.
Franklyn graduated from Lapwai High School in the Class of 2000. While still in school, he worked for the JTPA program with the BIA in the summer of 1995; he helped during the floods of January 1997 with the NPT Forestry; from June through December 1998, he did smolt monitoring for NPT Fisheries; and in July 1999 he worked as a timber cruiser with NPT Forestry. Following high school, he worked as an aid for the NPT Forestry and Fisheries Departments. Franklyn worked in construction with M.A. Deatley Construction laying pipe, culverts and road work. He was proud to have earned certifications as a heavy equipment operator for the hydraulic excavator and backhoe, and he ran many other pieces of heavy equipment as well. Franklyn also worked in construction with Harcon Construction, A & R Construction and M.L. Albright & Sons. He spent four years working for S&S Construction and was proud to be a part of the construction of the Clearwater River Casino and Nimiipuu Health Clinic. In 2008-09, Franklyn was part of the team that constructed the highway from Mission to Pendleton, Ore. From December 2009 through July 2016, he worked for the NPT Plant Maintenance. As part of his duties with maintenance, Franklyn played a key role to many families in the NPT community by helping dig many graves for loved ones who passed on. In his most recent job, Franklyn worked for TW Tree Service. Franklyn enjoyed his roles in all of his jobs and all the friends he met along the way.
Franklyn was one of the founding members of the Lightning Creek drum group and took pride in serving as the Drum Keeper for many years. Being a part of Lightening Creek was such an important aspect and a key honor of Franklyn's life. Lightning Creek drummed at many celebrations around the country and was well known for its unique style. In 2014, the group was selected to play the opening song for the Native American Music Awards in New York City and was nominated for three awards. Franklyn was proud to travel to New York for this renowned event. The group won many drum contests at celebrations throughout the Pacific Northwest and around the country from 1996 to present. He and his cousin/brother Tom Williamson taught themselves how to make drums from hides and also gifted drums to other groups. Franklyn sang with other drum groups including Wild Rose, Redtail, Blacklodge, Young Gray Horse and others. Lightning Creek recorded two albums, with the second one being recorded at his house in Lapwai.
Franklyn was a proud Nez Perce Tribal member and he practiced his culture and traditions by dancing, singing, participating in ceremonies and celebrations. He was recognized at a celebration for taking young ones out for their first kills and teaching them to hunt and fish. He was an avid hunter and fisherman and provided meat and fish for family and friends. Franklyn received his Indian name, icteleeyheyx, from Josephine Ramsey and his name's meaning is "Sawing With a Blade For a Long Time." His name was a true guide for his life, as Franklyn spent many days out cutting firewood and distributing it to elders and families.
Franklyn was preceded in death by his maternal grandfather, Raymond Souther Sr.; paternal grandfather Frank Taylor and grandmother Viola LaRae (Powaukee) Taylor; uncles Franklyn (Gus) Taylor, Robert "Coon" Williamson and Darrel "Bozo" Baptiste; and brother/cousin Lance Baptiste.
He is survived by his parents at the family home in Lapwai; sister Tanya Taylor, of Toppenish, Wash.; maternal grandmother Mary Jane (Walker) Souther, of Lapwai; uncles Harold "Skip" (Patty) Williamson and Adrian "Gigi" Taylor, of Lapwai; Craig "Smokey" Taylor, of Clarkston; Spike (Denise) Souther, of Kooskia; Edward (Chere) Souther and Bob Kirtland, of Kamiah; aunts Alexis "Jinx" Baptiste, of Lapwai; Maple (Steve) Stuivenga, of Kamiah, and Wanda Souther, of Lapwai; his cousin/brothers Brooklyn Baptiste, Siab McLoud, John "John Boy" Williamson, Tom "Lil' Tom" Williamson, Robert "Bert" Williamson, Tui "Taylor" Moliga, Mike "Boner" Bisbee Jr., Wilson "Frosty" Powaukee, Austin "Bob" Samuels, Tom "Wop" Fazio, and Luis "Foo" Arenas; sister/cousins Rachel Kirtland and Isabelle Penass; and goddaughter Micah LaQuan Bisbee. He is also survived by many nieces, nephews, cousins and friends who knew and loved him.
A celebration of Franklyn's life will be held at 10 a.m. today at the Pi-Nee-Waus Community Center in Lapwai. Officiating the service will be Bryan Samuels, of Kamiah. Burial will follow at the Tribal Cemetery in Lapwai. Malcom's Brower-Wann Funeral Home is in charge of services.
Rest In Peace Frank the Tank.
Service Information
Date & Time

Wednesday, July 28, 10:00 AM

Location

Malcom's Brower-Wann Funeral Home
1711 18th Street
Lewiston, ID 83501

Get Directions
Offer Condolences