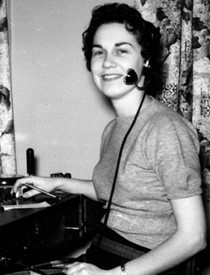 Frankie Alfrey
4/25/1933 — 9/28/2021
Frankie Peters Alfrey passed away Tuesday, Sept. 28, 2021. Born April 25, 1933, in Payette, Ark., to John and Beulah Peters, Frankie spent most of her childhood years in Juliaetta. She graduated from Kendrick High School.
She was preceded in death by her loving husband, Vaughn Alfrey, her father John Peters, mother Beulah Peters, two sisters, Freda Farrington and Minnie Hedler, a brother, Tom Peters, a stepdaughter, Carrie Luther, and one great-nephew, Dustin Wicks. Frankie is survived by a stepdaughter, Marcie Alfrey McKinney (Kent), of Tenino, Wash. She is also survived by nieces Paloma Wicks (Rex), Kathy Johnson (Dan), Barbara Farrington (Mike Tefft), Betty Steele (Golden), Judy Hedler Green, and one nephew, John Hedler (Connie), all of whom she considered "her kids." She is also survived by many step-grandchildren and great-grandchildren.
Frankie began her career as a switchboard operator at Potlatch Telephone Company in Kendrick and later retired from Pacific Northwest Bell in Lewiston, where she met her devoted husband, Vaughn, a lineman for Pacific Northwest Bell. They were married April 25, 1981, and enjoyed many of their retirement years traveling throughout the states in their motor home. After retirement, Frankie and Vaughn moved from Lewiston to Kamiah, and in 1991 moved to Craigmont. In 2002, they returned to live in Lewiston. Frankie enjoyed gardening and crocheting, and she especially loved her dogs, Keisha and Rocky. She and Vaughn were avid supporters of their great-nieces' and -nephews' sporting events, and were enthusiasts of the Gonzaga Bulldogs basketball team.
The family of Frankie Alfrey would like to extend their thanks to the staff of Generations Assisted Living at Lewiston for their excellent care of Frankie during the past few months.
Upon her wishes, there will be no memorial service at this time.
Offer Condolences