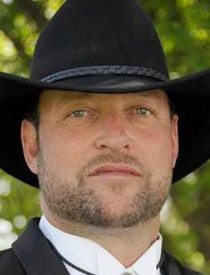 Frank Carr
3/31/1970 — 10/12/2018
Frank William Carr, age 48, passed away due to a heart attack, in his home in Culdesac, Friday, Oct. 12, 2018. Frank was born to Julie and Boyd Carr on March 31, 1970, in Council, Idaho.
Frank never met a stranger and was known for greeting everyone with his big hugs and kind words. He had a way of making everyone he came into contact with feel special; he truly lit up a room. Frank spent his childhood on the South Fork of the Salmon River on his grandmother, Silvia McLain's, ranch with his mother and sister, Teresa (Carr) Heinzerling.
Growing up, Frank and Teresa made memories, and barely survived many adventures. They spent most days fishing and planning their next adventure. In 1979, his family moved to Culdesac, where Julie would meet and marry John Schwane. John became a father to Frank and Teresa and taught Frank how to hunt, fish and let's not forget his pristine manners that everyone knew him so well for.
Frank loved camping and fishing with his family. He loved his mom so much and enjoyed being her closest friend (A.K.A. momma's boy!)
In high school, Frank excelled at sports. He especially loved baseball and basketball. He also had a love of singing, playing guitar, shooting pool, hunting, fishing and gold mining. After graduating high school, Frank enlisted in the U.S. Air Force and served four years, three of which he spent as an Air Fuels Specialist in Germany. He made many lifelong friends in the service. Frank was a shining light in his community and left behind many great friends.
Frank joined many beloved family members in heaven: grandparents Stan and Sylvia McClain, Willma and John Carr and Hank and Lela Schwane; father Boyd Carr and best friends Russel "Russ" Lawrence and Ronald Hovey. He is survived by his parents, John and Julie Schwane; his aunt Sandy Dunham; aunt Helen Bennes; sister Teresa (Dustin) Heinzerling; brother Josh (Brandy) Carr; nieces Lacey (Dallas) Frei and Sierra Hovey; nephews Tillman Heinzerling, Scott Carr, Beau Carr and Jake Carr; many loved cousins and countless close friends.
A celebration of life and dinner will be held at Culdesac Community Church at 1 p.m., Saturday. Think of him as living in the hearts of those he touched, for nothing loved is ever lost and he was loved so much.
Service Information
Date & Time

Saturday, October 27, 1:00 PM

Location

Culdesac Community Church
902 Main Street
Culdesac, ID 83524

Get Directions
Condolences
Jim O'Neal
I know it's been 5 months but I was searching for old friends i served with and came across Frank's obituary. I am sincerely sorry for your loss. Frank was a good man. He was my roommate while stationed in Germany. I know he will be missed.
Sunday, February 24, 2019 9:42 PM
Offer Condolences