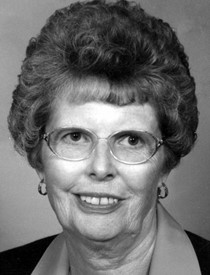 Everta "Jeanne" Thomason
11/26/1932 — 5/21/2017
Nov. 26, 1932 - May 21, 2017
Everta "Jeanne" was born in Culdesac to Agnes and Vinal Leeper. She spent most of her years in Reubens with her late husband, William J. "Bill" Thomason. They were married more than 56 years. She spent the last 10 years in Lewiston, just down the road from her only sister, Donna Mae.
Her love for her late husband Bill was so strong they are without a doubt back together in heaven - a thought that brings great joy to her loved ones. She treated everyone like family and greeted those fortunate enough to meet her with open arms. She instilled a humble pride in all those who loved her and spent time with her.
She could cook like you would not believe. Her pies were legendary, especially the huckleberry. The Thomasons have a deep love for huckleberries, thanks to her. She was so tidy you could eat off her floor, which some of us may have done at one point or another.
She had an amazing green thumb; a fact she would deny at every turn. She loved to camp and created some of the best camping memories for her family that will live on forever and inspire future generations.
She had unbreakable faith. She was beautiful inside and out. Those of us left behind will continue to live by her example and carry on her loving spirit.
She leaves behind one sister, Donna Mae (and her husband Les) Huntley; sons Dennis Thomason and his wife Nora of Bandon, Ore., and Kelly Thomason and Dawn of Craigmont; seven grandkids: Staci, Scott, Ryan, Isaiah, Sam, Joe and Breanna; seven great-grandkids, with one more on the way; and many extended family members and friends.
Funeral services will be held at 11 a.m. Wednesday at Malcom's Brower-Wann Funeral Home in Lewiston followed by the burial at 2 p.m. at Reubens Cemetery.
Memorials can be made to Reubens Community Church.
Service Information
Date & Time

Wednesday, May 31, 11:00 AM

Location

Malcom's Brower-Wann Funeral Home
1711 18th Street
Lewiston, ID 83501

Get Directions
Condolences
Pastor Mike Lawson, Orchards United Methodist Church
Please accept our heartfelt condolences for Jean's passing. She was a lovely person, a quiet spirit, always a positive and smiling presence among us. We will miss her deeply. Our prayers will be with your family in your time of grief. May God give you comfort and peace during this difficult time and also give you joy as you celebrate her dear memory, her impact on others' lives, and all the good she accomplished.
Wednesday, May 31, 2017 10:19 AM
Offer Condolences