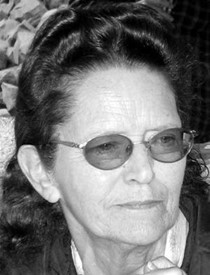 Evelyn Betty Arnett
7/3/1936 — 3/25/2016
Betty Arnett passed away Friday, March 25, 2016, at Life Care of Lewiston.
Betty was born July 3, 1936, in Orofino, the third child of Lewis and Alice Phillips Goss. The family moved several times while Betty was growing up and she attended schools in Seattle, Los Angeles and Kendrick.
In 1951, while living in Kendrick, she met Fred Arnett. Six weeks later, just as the two were getting to know each other, Fred was drafted into the U.S. Army. During his tour in the service, Betty's family moved to Tucson, Ariz., and then to Redding, Calif., but the young couple kept in touch and continued their courtship through numerous letters. When Fred was discharged from the service in 1953, he drove from Kendrick to Redding, and the two were married at the Redding Courthouse on April 10 of that year. The newlyweds returned to Kendrick to make their lifelong home together and to raise their family.
Betty was a homemaker for several years, raising her son, Rick, and daughter, Evelyn. Over the years, the family raised chickens, turkeys, beef cattle, and for many years, had milk cows that became Betty's responsibility to care for. When she first got married, she wanted to learn how to milk cows and her father-in-law, Curt Arnett, warned her that she might regret that, as the milking chores would eventually become her responsibility. That was exactly what happened, but Betty never seemed to mind. She sold milk and eggs and kept busy freezing and canning produce from their gardens. She was an excellent cook and the delicious meals at the Arnett home always included multiple courses. Many loaves of bread were baked in her kitchen, as well as wonderful pies made from scratch.
Fred and Betty loved to go fishing and hunting and spent many a weekend in their boat on Lake Coeur d'Alene and on Dworshak Reservoir. The family made trips every year to fish near Bungalow Ranger Station on the North Fork of the Clearwater River and to hunt at Gorman, beyond the ranger station. Thousands of fish were smoked in an old refrigerator in the Arnett garage, many of which were given to friends of the family. Betty's chili sauce fish was especially loved, and hundreds of jars of it were processed in her kitchen.
When her two children were in their teens, Betty worked for a few years as a cutoff sawyer at Browning Cut Stock in Juliaetta. After that, she kept busy with her grandchildren and great-grandchildren.
Betty was happiest when caring for children. As well as sitting for her own family, she baby-sat for others. There was always treasured artwork taped to her refrigerator door and always fingerprints on the lower panes of glass of her kitchen door.
Betty is survived by her son and daughter in-law, Rick and Diane Arnett; her granddaughter and husband, Michelle and Jeremy Foutch and their children, Stephanie, Ashley, David, Grace, Gabe and Levi; her grandson, Jeff Arnett and his children, Britni and Damyen; her daughter and son-in-law, Evelyn and Carlos Grageda; her granddaughter and husband, Nicole and Damian Ashby; and by her granddaughter and husband, Jennifer and Luke Blodgett.
Betty was preceded in death by her husband, Fred; and by her brothers, Dwight M. Goss and Merlin Dale Goss.
A private graveside service will take place at a later date.
Offer Condolences