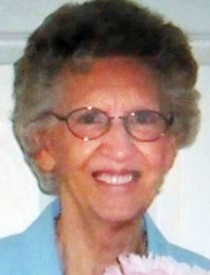 Eva (Jean) Dawson
1/13/1927 — 7/7/2020
Eva "Jean" (Vantrease) Dawson, 93, of Lewiston, passed away Tuesday, July 7, 2020.
She was born to Leonard and Eva (Young) Vantrease on Jan. 13, 1927, in Enterprise, Ore. They moved to Boles, Idaho, when she was 3 years old, and to Lewiston, where she lived with her grandmother to start school. Her parents later moved to Lewiston, where they resided in the Lewiston Orchards and she attended school at Tammany Elementary.
She later met her husband, Gilbert Leo Dawson, who was home from the U.S. Navy after serving in World War II. He courted her on his Harley-Davidson, and they married Feb. 8, 1947. Over the next six years, Eva gave birth to three daughters. Because of Gilbert getting into road construction, the family followed him to various locations in Idaho, Washington, Montana, Oregon and eventually Alaska. After moving to numerous locations in Alaska, they eventually settled in Kenai, where they built a beautiful home and enjoyed retirement and spending time with their children and grandchildren. They spent several years being snowbirds, traveling to Las Vegas and the Death Valley area.
In 1996, Gilbert succumbed to cancer. Eva moved to Soldotna, Alaska, where she was active in her church and started the Prayer Chain. She was a true prayer warrior and was faithful in praying when anyone had a need. She loved to read her Bible and other inspirational books. She also enjoyed sewing, playing games with family and camping, as well as serving others through her love of Christ.
In 2004, she moved with her oldest daughter and son-in-law to Lewiston, where she resided until the time of her death.
Eva was preceded in death by husband Gilbert Dawson, parents Leonard and Eva Vantrease, brother Norman Vantrease, grandson Robert Gordon, and great-grandson Sky Gordon. Eva is survived by three daughters, Linda (Dan) Calapp, of Lewiston, Kathleen (Robert) Gillihan, of Lewiston, Susan (Mike) Othitis, of Wurtsboro, N.Y.; sister Ruby Johnson, of Clarkston; brothers Robert Vantrease (Selma), of Clarkston, Jim Vantrease (Betty), of Clarkston, Tom Vantrease, of Anatone, and Glenn Vantrease (Donna), of Clarkston. She is also survived by eight grandchildren, 13 great-grandchildren and eight great-great-grandchildren.
At Eva's request, there will be no funeral service, but there will be a celebration of life at a future date. The family would like to express their appreciation to Elite Hospice and Addus for their help.
In lieu of flowers, donations may be made to the Alzheimer's Foundation of America.
Offer Condolences