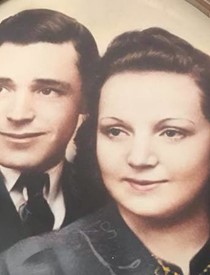 Ellen Woodruff
4/1/1922 — 4/23/2018
"To our beautiful Gramms. May you spend the rest of your days riding horses through the hayfields, making your incredible maple bars for hungry farmhands, and sipping Macnaughton with Gramps. Rest in peace."
---
Ellen Margaret Woodruff passed peacefully with family at age 96 on Sunday, April 15, 2018, at Valley Hospital in Spokane. She was born April 1, 1922, at Westlake, Idaho, to Charles and Anna Norberg.
The family moved from there to a farm south of Culdesac, and Ellen graduated from high school there. She enjoyed the company of her five siblings, Charles Norberg, William Norberg, Lillie Anne Lustig, Vivian Dumbauld and Wilma Cox. Preceding her in death were her parents, five siblings and spouses, one grandson and her husband of 49 years, Joy Luellen Woodruff.
Surviving this loving, "spunky" lady are her daughters, Echo (Armand) Hansen and Donna (Phil) Heinen. Grandchildren who will always cherish their memories of her are Shelly (John) Gosse, Rodney (Michelle) Smith, Aaron (Diane) Heinen, Danette Heinen Horrocks, Scott (Helen) Heinen and Selina (John) Silflow. She also has several great- and great-great-grandchildren. Ellen was blessed by several nephews, nieces, friends and caregivers who have also shared their love and laughter with her.
Ellen and Joy were married June 1, 1941, and later bought the "Miss Censky" home east of Winchester in 1943. They enjoyed 44 years of farming, ranching, gardening and being involved in the community. In their retirement years, they spent many hours fishing and working on the tree farm property just south of the home place. They were honored in 1985 by being selected grand marshals for Winchester Days. They also were members of the Winchester Community Church, as well as the Shriners, Masons and Eastern Star organizations.
Ellen was an excellent cook. Joy often commented that his "hired hands" probably agreed to work for him because they loved Ellen's delicious, homemade meals.
The family has many fond memories of helping with the tree farm and then gathering in the kitchen, enjoying laughter, love and delicious meals.
In 1987, Ellen and Joy moved to their beautiful condo on Lakeview Drive in Lewiston.
Joy passed in November of 1990, and Ellen remained in her home until 2010, when she moved to Royal Plaza Assisted Living, residing there until 2016. The last two years she has been cared for at Guardian Angel Homes in Liberty Lake, Wash.
She remained an avid Mariner and Gonzaga fan for several years and enjoyed the company of family and friends and several pampered pets throughout the many years.
At Ellen's request, there will not be a funeral service. Her remains and those of her cherished pets will be placed near her husband. However, Joy's request was "not too close or I will never get any rest!"
If you would like to make a donation in Ellen's memory please consider the Lewis-Clark Animal Shelter at 6 Shelter Road, Lewiston, ID 83501, or a charity of your choice. We also would like to ask that in her memory please visit someone in a care facility or who may live alone. We appreciate those of you who took the time to visit or remember this dear lady with a card. Thank you so very much.
Condolences
alan lutes
donna/phil------was so sorry to see of your mother's passing. although I never knew her well I remember so vividly driving by their house as a kid and thinking what a beautiful place they had. thinking of you all at this tough and sorrowful time. alan
Wednesday, May 16, 2018 10:16 AM
Offer Condolences