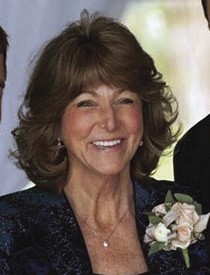 Elizabeth McConnell
2/3/1951 — 7/29/2017
Elizabeth Ruth McConnell, beloved wife, mother, grandmother and elementary school teacher, passed away Saturday, July 29, 2017, due to complications of "Lou Gehrig's Disease," at her home in Lewiston.
Liz was born Feb. 3, 1951, at Lynwood, Calif., to Omar B. and Grace F. Danielson. She grew up on the beaches of Southern California, swimming and tanning with her three lifelong childhood friends, Mary Ann, Mary Fay and Roxanne. A Delta gamma sorority sister, she graduated from Cal State University at Long Beach in 1973 with a psychology degree.
In 1972, she married Michael D. Schumacher. The two of them eventually followed Liz's family up to Idaho in 1974 to "stay a bit." Two sons later - Robert and Andy - Idaho became permanent. They separated and divorced in 1984.
In 1995, Liz would meet now-retired Clarkston Fire Department Capt. David C. McConnell. They would marry on Sept. 21, 1997, in Lewiston, where they lived happily until the day she died - mostly because she was the boss and David was OK by that.
Together they enjoyed whitewater rafting, gardening in the backyard, traveling throughout the states and abroad to such places as Great Britain, Europe, the Mediterranean and Thailand; working together at the fourth-grade Rendezvous, and taking care of her family cabin on Shanghai Divide, outside Pierce.
Liz's career with the Lewiston School District gave her a true sense of pride, purpose and joy. Her career spanned 33 years, primarily as a fourth-grade teacher at Centennial Elementary. During that time, she was the head teacher under four principals and a member of many district committees, including the Lewiston Education Association and the Crisis Team, among others. Her "kids" were a very important part of her life.
Teaching wasn't all business, however. She enjoyed wonderful times and trips with her "Teacher Girls," especially her coffee times and wine times, and walking with Marilyn for 13 years.
Liz is survived by her husband, David, at home; sister Dulcilee Huling of Kennewick; children Tracy Lane of Clarkston, Connie and husband Michael Vislocky of Cincinnati, Robert Schumacher of Alexandria, Va., and Andy and wife Jessica Schumacher of Lewiston; grandchildren Josh Lane of Clarkston, Max and Brandon Vislocky of Cincinnati, and Brighton and Emery Schumacher of Lewiston; and many close nieces and nephews.
Liz was preceded in death by her parents; brother Byron (Danny) Danielson; sister Sandra Huling; and two brothers-in-law, Jimmy and Gary Huling.
A direct quote from Liz: "I was a lifelong Democrat, and a person who believed in equal rights for everyone. I loved to banter with my Republican friends - you know who you are."
Arrangements are with Malcom's Brower-Wann Funeral Home in Lewiston. A memorial service will be held at 1 p.m. Friday, Aug. 11, at the Salvation Army Chapel, 1220 21st St., Lewiston, with a reception to follow immediately at the same location.
Service Information
Date & Time

Friday, August 11, 1:00 PM

Location

Salvation Army
1220 21st Street
Lewiston, Idaho 83501

Get Directions
Condolences
Williams Family
Condolences to the MConnell family. Our thoughts and prayers go out to your whole family. Psalms 147:3 says God, "heals the broken hearted, and binds up their wounds." May God bring you comfort and peace.
Friday, August 25, 2017 8:56 AM
Offer Condolences