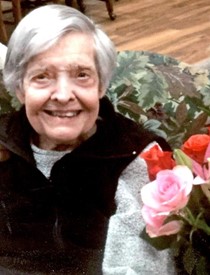 Eleanor Blume
12/31/1919 — 11/7/2020
Eleanor Blume passed away Saturday, Nov. 7, 2020, at Royal Plaza Health and Rehabilitation in Lewiston.
On New Year's Eve, 1919, Raymond and Stella Harland did not get to join the neighborhood party because of the arrival of Eleanor. Eleanor joined brothers Ray and Boyd. Over the years, they were joined by Mary, Doris and Keith. The family lived on Upper American Ridge outside of Troy. Life on the farm was much like farm life now — raising chickens, a garden, canning, etc. The weekly trip to town was a treat, and when that trip didn't happen, the event of the week was going to church down the hill at Bethel.
Eleanor graduated from Troy High School in 1936 and the next fall attended the Normal School in Lewiston. She graduated with a teaching certificate in 1938 and began teaching in Yellow Dog at Cedar Creek School. That year was a challenge. She then moved to Plummer, where she taught second grade for two years and coached the high school girls' basketball team. From there, she moved to Genesee, lived in the hotel, and taught Grade 2.
Howard and Eleanor enjoyed golfing, spending winters in Arizona and traveling to Australia in 1973. Eleanor visited Europe in 1980. Besides golfing, she was an avid reader and enjoyed bridge and genealogy. She had been a member of Lady Elks, P.E.O., Delta Kappa Gamma and DAR. She was forever interested in education.
The family would like to thank Royal Plaza for their many years of special kindness and caring for Eleanor.
A family graveside service will be held. A celebration of Eleanor's life will be at a later date.
In lieu of flowers, memorials (David E. Blume Scholarship Fund) may be sent to Genesee School District, P.O. Box 98, Genesee, ID 83832.
Offer Condolences