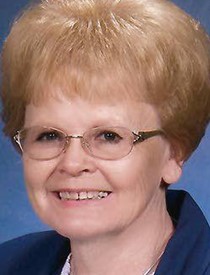 Eileen Fibelstad
10/6/1943 — 5/25/2019
Eileen Fibelstad was called home to heaven on Saturday, May 25, 2019.
Eileen was born Oct. 6, 1943, in Hawley, Minn., the third child and oldest daughter of Oscar and Evelyn Skrien. Growing up in the small farming community of Ulen, Minn., she was rarely seen without a member of "the herdsters" (her four best lifelong friends). She played the saxophone in the school band, was a cheerleader and was a member of student council, National Honor Society and Future Homemakers of America.
Following high school, Eileen moved to the metropolis of Fargo, N.D. While waitressing in a hotel coffee shop, she caught the eye of a handsome sailor with an incredible sense of humor. Shortly thereafter, she and Vince Fibelstad were married in Morehead, Minn. Following their marriage, they were shipped to Yokosuka, Japan, where their daughter, Kari, was born in 1965. Eileen and Vince moved to Groton, Conn., where daughter Karla was born, then to Lewiston, where son Kevin joined the family.
Eileen was the classic '70s mom who sewed clothes for her kids, baked everything from scratch, raised a garden, canned fruit and was always the perfect hostess. Her home was decorated for every holiday — especially Christmas. She volunteered as a room mother at school, sewed drill team uniforms, led Girl Scouts and 4-H and was a Guardian for Job's Daughters. She was passionate about serving at Trinity Lutheran Church with the youth group, Bible school, ladies circle, quilting, Lutheran World Relief projects, Family Promise, choir and arranging altar flowers. She was heavily involved with Sons of Norway, as she was very proud of her Norwegian heritage and wanted to pass the traditions on to her children and grandchildren. One of her fondest memories was exploring Norway with Vince and his siblings. Each Christmas, Eileen would share dozens of rosettes, krumkake and other Scandinavian treats with special friends. She was also integral in hosting the annual Sons of Norway breakfast.
Eileen was preceded in death by her parents, Oscar and Evelyn Skrien; her father-in-law and mother-in-law, John and Margaret Berry; sister Shirley Germain; sister-in-law Liesel Skrien; and nephew Jody Fibelstad. She is survived by her husband, Vince; daughter Kari (Chris) Hunt; daughter Karla Boyce; and son Kevin Fibelstad; brothers James Skrien and Orlyn (Sandy) Skrien; sister Sharon (Greg) Marquart; brothers-in-law Paul (Dee) Fibelstad, Jerome (Gayle) Fibelstad and Ron (Judy) Berry; sister-in-law Vera (Richard) Hynes; grandchildren Thomas Whalen, Tamara Whalen, Jeremy Hunt, Joshua Hunt and Jamison Hunt; and numerous nieces and nephews.
Funeral services will be held at Trinity Lutheran Church, 920 Eighth Ave., Lewiston at 11 a.m. Saturday, June 1. Burial will follow at Lewis-Clark Memorial Gardens.
Service Information
Date & Time

Saturday, June 1, 11:00 AM

Location

Trinity Lutheran Church
920 8th Avenue
Lewiston, Idaho 83501

Get Directions
Offer Condolences