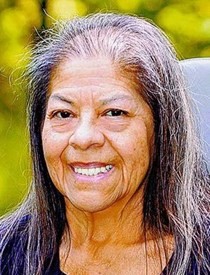 Edna Paisano
9/3/1948 — 9/3/2014
Edna Lee Paisano left this world to join her ancestors on Wednesday, Sept. 3, 2014, at St. Joseph Regional Medical Center in Lewiston, surrounded by family. She was 66.
Edna was born Jan. 1, 1948, to Ferris Paisano Jr. and Frances Arthur Paisano in Lewiston, the third of four children. Edna attended school in Lapwai, graduating from Lapwai High School in 1966, and was salutatorian for her graduating class. After graduation from high school she attended Boise State University, then Boise Junior College. Edna completed two years at Boise, then transferred to the University of Washington, where she received her bachelor's degree in 1971. While attending her junior year at the University of Washington she was stricken with rheumatoid arthritis, which caused her to be hospitalized most of her junior year. But, as was typical with Edna, she did not let this deter her from completing her educational goals. After receiving her bachelor's degree, Edna continued her education at the University of Washington, working toward a master's of social work, which she received in 1973.
Following graduation, Edna left for Washington, D.C., where she began a long career working with the federal government. Edna's first job was with Office of Head Start, working with Indian tribes throughout the United States. After two years in the job with Head Start, Edna went to work for the Department of Commerce, Bureau of Census, Racial Statistics, Population Division as principal statistician, where she stayed for 20 years. During her time at the Census Bureau, Edna was the individual responsible for developing enumeration formulas that changed the way tribes were funded by federal programs. Edna always had the needs of Native people in her heart, and she used her talents and intellect to achieve her goals to assist all of her people.
Edna left the Census Bureau and went to work with the Environmental Protection Agency, where she worked for one year. Edna's last position was with the Department of Health and Human Services, Indian Health Service, in Rockville, Md., where she was principal statistician and division chief. Edna retired from the Indian Health Service in April 2011. During her lifetime and career, Edna received numerous awards recognizing her hard work and dedication - a few of those are the University of Washington Distinguished Alumnus Award in 2003; the U.S. Department of Commerce Bronze Medal Award for Superior Federal Service in November 1987; and the U.S. Department of Commerce Silver Medal Award for Meritorious Service in October 1994.
During her career at the Census Bureau, Edna published many books through her work - "We the American-Asians" in 1993; "We the American-Pacific Islanders" in 1993; and "We the First Americans" in 1989, to name a few. Edna also traveled to Austria to present one of her published papers to an international conference. She was proud of this accolade, especially since she was accompanied on the trip by her mother, Frances. During this trip, they also visited Italy and traveled through Germany to Austria. Edna loved to travel - she visited Italy and Austria twice and was blessed to attend Easter service at the Vatican. After retirement, Edna returned to Sweetwater to spend time at home.
Edna was preceded in death by her parents, Ferris Jr. and Frances; and sister Marie Ann Paisano.
Edna is survived by a brother, Ferris Paisano III (Linda) and family; a sister, Rachel Paisano-Edwards (Larry) and family; and her nephew, Jon Paisano and wife Tara and children Damion and Anisa, all of Lapwai. She is also survived by numerous Spencer, Miles, Arthur, Penney, Paisano and Sarracino cousins, nieces and nephews, whom she loved dearly.
Funeral services will be held at 10 a.m. Monday at the Pi Nee Waus Community Center in Lapwai. Burial will be at Spalding Cemetery, with dinner to follow at the Sacred Heart Catholic Church hall in Lapwai. Malcom's Brower-Wann Funeral Home is handling arrangements.
Edna lived her life courageously, never letting her physical disabilities hold her back. She served as an inspiration to all of us who knew and loved her. Godspeed, dear Edna.
Offer Condolences