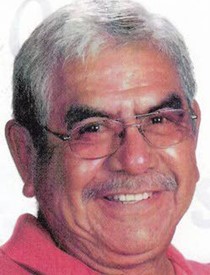 E. James McCormack
4/3/1936 — 11/27/2018
Jim McCormack, 82, Mud Springs, Weyecenéekt Teméextulin'.
Ervin James "Jimmy Mac" McCormack passed away Tuesday, Nov. 27, 2018, surrounded by family at his home in Mud Springs, Idaho, of cancer.
He was born April 3, 1936, in Lapwai to Harry Pete "Fox" McCormack and Ida Allen. He was raised in Lapwai by his beloved grandmother, Annie Grant, and they often traveled to Pendleton, Ore., and the valley to play stick games. During high school, Bill Stevens and "Saucer" Powaukee offered their homes to Jim. He was an outstanding high school athlete; he was part of Lapwai High School's first state basketball championship in the 1950s.
After graduating from Lapwai High School in 1956, Jim enlisted in the U.S. Navy. He was ranked TM1, a Torpedoman's Mate Petty Officer 1st class. He was often out to sea several months a year. He served on several submarines, including the USS Barbel, USS Charr, USS Dogfish, USS Wahoo and others. He served off the coast of the Republic of Vietnam during the Vietnam War.
In March 1960, Jim married Virginia Hubbard of Lapwai. They moved every couple of years when he was stationed at a new submarine base. They made their home near Navy bases in New London, Conn., Pearl Harbor in Hawaii, Seattle and San Diego. They had four sons, each born at or while traveling to a different Navy base. That marriage later ended in divorce.
Jim retired from the Navy with an honorable discharge at Point Mugu, Calif., on Sept. 22, 1975. He moved back to Lapwai and became a bull rider for a few years in local and regional rodeos. He farmed for more than two decades for the Wagners and the Heitstumans.
In 1998, Jim started working for the Nez Perce Language Program at Lapwai High School. He was a very devoted language teacher. He spent countless hours with Nez Perce children, fellow Nez Perce elders, and linguists to preserve the language for future generations of Nez Perce. He continued to teach at Northwest Indian College, Lapwai High School and the Nez Perce Language Program until his health declined.
In March 2017, Lewis-Clark State College awarded Jim the Native American Awareness Week's Lifetime Achievement Award for his 20-year efforts to "preserve the Nimíipuu language and the Nez Perce way of life for another 30 years and beyond." He often said: "If you learn the language, the culture will follow."
Jim was an avid golfer, playing in many tournaments throughout the Northwest. His favorite pastime was playing stick games, a traditional game that has been played for countless generations. He also enjoyed playing bucket ball, horseshoes and stick games at the annual Mud Springs Days near his home every August. More than anything, he enjoyed his time teaching young people about the Nez Perce language and culture, and his decades of students will miss his firm leadership.
Survivors include his loving companion of 35 years, Donna Greene, of Mud Springs; four sons, Brian McCormack of Lewiston, Russell McCormack of Lapwai, Jerry McCormack of Seattle, and Casey McCormack of Clarkston; stepdaughters Michele DeLong and Angelia Mabry of Spokane; stepson Wes DeLong of Lewiston; sisters Claudine Rabago and Loretta Halfmoon of Lapwai; 13 grandchildren; dozens of great-grandchildren; two great great-grandchildren; and numerous nieces and nephews.
He was preceded in death by his parents; his stepfather, Arthur "Sully" Moore; seven brothers, Arnold McCormack, Mickey McCormack, Joseph "Esky" McCormack, Arthur "Hoss" Moore, Gary "Hench" Moore, Calvin Moore and Robert "Hood" McCormack; five sisters, Veronica Taylor, Geraldine "Gerrie" Jackson, Vera Tuell, Leila "Snooks" Moore and Shirley "Shell" McCormack; grandson Matthew Gowdy; one great-granddaughter; and several nieces and nephews.
A Dressing Ceremony will occur at 2 p.m. today at Malcom's Brower-Wann Funeral Home in Lewiston. Walasat services will begin at 7 p.m. at the Pi-Nee-Waus Community Center in Lapwai and will continue throughout the night until burial Friday morning at sunrise at the Nez Perce Tribal Cemetery.
Service Information
Date & Time

Friday, November 30, 6:00 AM

Location

Pi-Nee-Waus Community Center
99 Agency Rd.
Lapwai, ID 83540

Get Directions

Additional Details

A dressing ceremony will take place Thursday, at 2:00 p.m., at Malcom's Brower-Wann Funeral Home. Then the memorial service will be Thursday, at 7:00 p.m. at the Pi-Nee-Waus Community Center
Offer Condolences