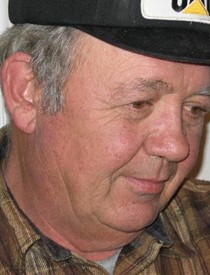 Duane E. Liedkie
5/30/1949 — 11/18/2021
Duane E. Liedkie passed away Thursday, Nov. 18, 2021, at his son's home in Clarkston, amid the love of family. Duane had long suffered from multiple sclerosis and was diagnosed with cancer a year before his death. He was 72.
Duane was born in 1949 in Lewiston to Carl and Agnes Liedkie and graduated from Lewiston High School in 1967. During his high school years, he took an interest in auto shop. He began working in the shop of a local construction company owned by Vic Allmon. Duane was drafted into the U.S. Army and trained at Fort Dix in 1969. He earned expert with the M-14 and served as Red Eye gunner, deployed in the 40th Artillery Unit of 3rd Armor Division, stationed in Germany.
After his honorable discharge in 1971, Duane returned home to Lewiston and to Allmon Construction as a heavy equipment diesel mechanic. He later worked for Steelman-Duff and Grant Construction before retiring due to health. His job often required him to travel and live away from home. Duane worked on many area construction projects including Red Wolf Bridge. Duane made many lifelong friends through his work and was esteemed for his solid work ethic and skill as a welder.
Duane married his first wife, Denise, in 1972 and adopted as his own her son, Brett. They later welcomed a son, Curtis, and a daughter, Shalie. They were married 17 years before divorcing. Duane married his second wife, Fay, in 1990, adopting as his own her daughter, Lindsey. They had a son, John, together and were married 17 years before divorce. Duane was married for a third and final time to Linda (Susan) in 2008 and the couple was married for 10 years before her death in 2018.
Before his M.S. became too severe, Duane enjoyed camping, hunting and fishing. His children have many memories of camping trips, including several to Buffalo Hump and one trip to Yellowstone.
Duane was preceded in death by his parents, his wife, Linda, and a nephew, Nicholas. He is survived by his brother, Bill (Sue); sister Diane (Steve), sons Brett (Hannah), Curtis (Mandy) and John; daughters Shalie (Chris) and Lindsey (Bobby); and grandchildren Austin, Hunter, Maddie, Kristin, Anna, J.J., Aiden, Jaxon, Kadence and Beau.
The family wants to give special thanks to those who helped care for Duane over the last year.
A graveside service will be held at 11 a.m. Dec. 3 at the Woodland Cemetery where Duane will be laid to rest beside his parents and grandparents. Arrangements are being handled by Malcom's Brower-Wann Funeral Home.
Service Information
Date & Time

Friday, December 3, 11:00 AM

Location

Woodland Friends Church Cemetery
1993 Woodland Road
Kamiah, Idaho 83536

Get Directions
Offer Condolences