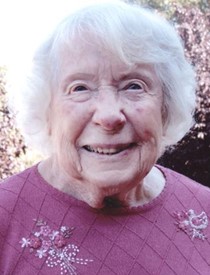 Dorothea "Dorothy" Katherine Rogers
7/27/1919 — 4/9/2022
Dorothy Rogers passed away quietly this past Saturday morning, April 9, 2022, at her ranch location near Lapwai. She was 102.
Dorothy was born in the Redwoods of Northern California to Fred and Katherine Nielsen on July 27, 1919. Her father was a redwood timber millwright. Her mother was a recent immigrant from Denmark. They lived in company housing, near Eureka in Korbel, where Dorothy was born. There she attended and completed grade school. When the mill was sold, her father left the lumber business. Acquiring a farm, they transitioned to agriculture, milking a string of 24 head of dairy cows. Dorothy was in the eighth grade when her father died, and the women milked the cows. If you like work, acquire a dairy farm. These cows were milked by hand. Dorothy noted that the muscles rolled in her arms as she combed her hair.
Dorothy had to ride the school bus to attend Arcata High School. While students were not to drive to school, Dorothy occasionally did drive, delivering produce to Arcata stores before school. She said that no one ever admonished her for that infraction. Dorothy was determined to turn out for one sport, so she chose the girls' volleyball team. She also joined the band as a drummer, attending the Worlds Fair with the band, which was held on Treasure Island in San Francisco Bay. Dorothy graduated in 1939.
Leaving high school and wanting to get out on her own, Dorothy heard about a scholarship for a cosmetology school. To get that scholarship, she needed to sell a considerable amount of Fitch hair tonic and submit a reason she'd like to receive that scholarship, which she did. Dorothy won the scholarship and attended Oakland School of Hairdressing in Oakland, Calif., completing the program Dec. 13, 1940.
This gave Dorothy an occupation with the ability to live on her own as she did throughout WWII. It was while plying her trade as a beautician in Eureka that she met and married her husband and the father of her three children. They met while he was still in the U.S. Army in 1946, but was determined to wait for his release before getting married. They married in January 1947, and located in Lewiston. There they built a brick home on 21st Street and formally started a family.
Nineteen years later, Dorothy become a widow. Remarrying some time after, she found herself again living on a farm, where she has lived for the past 56 years. There Dorothy was a supporting housewife, assisting with agriculture projects of wheat, barley and potato production. Along with this, Dorothy was an excellent homemaker, gardener and seamstress, often entering her sewing projects in the Nez Perce County Fair, winning top awards for quilts and needlework. She had an artistic eye and loved beauty. This led her to open The Carriage House Antiques in her historic barn at age 80.
Dorothy had a wonderful sense of humor and loved gatherings with family and friends. She regularly worked with her gardening club, needlework club, clothing boutique, etc. For many years she lead out as "Dorcas" Leader, assisting families in need. Dorothy served outstanding homemade meals with sought-after recipes at potlucks and in her home. Most of all, Dorothy loved God. To know Dorothy was to be inspired by her integrity and values. She will be remembered for her contagious joy of living, her commitments to hard work and others, and her peace and trust in the Heavenly Father.
Dorothy leaves behind three children and their spouses; Richard Dennis, of Alaska, Mary Abbott, of Viola, Taffy Kettenburg, of Slate Creek, Idaho; six grandchildren; and five great-grandchildren.
Visitation will be from noon to 7 p.m. today at Malcom's Brower-Wann Funeral Home in Lewiston. The funeral is scheduled for 11 a.m. Thursday at the Lewiston Seventh-day Adventist Church located at 1212 19th St.
Service Information
Date & Time

Thursday, April 14, 11:00 AM

Location

Seventh-Day Adventist Church
1212 19th Street
Lewiston, Idaho 83501

Get Directions

Additional Details

Visitation is Wednesday, April 13, 2022 from 12:00 p.m. until 7:00 p.m. at the funeral home.
Offer Condolences