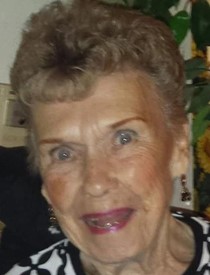 Donna Marie Olson Spindler
10/16/1928 — 3/3/2023
Donna Marie Olson Spindler passed away March 3, 2023 at the Lewiston Transitional Care Center of Cascadia. Donna was born Oct. 16, 1928 and was raised on the Little Salmon River. She married her first husband, Howard Belknap, and they moved to Craigmont to start their family. Cliff was the first son born in 1946 and Robert was born in 1950. Donna and Howard were divorced when the boys were teenagers. Shortly after the divorce Donna began working as a waitress at the local bar known as Sid's Place. It was here that she met Glenn Spindler, who was the owner of Sid's Place. Glenn was divorced and had four teenage daughters of his own. On July 19, 1961, Glenn and Donna were married in Elko. Nev. A year later they welcomed their son Steven Arthur into the world on July 19, 1962.
Glenn sold Sid's Place and the family relocated to Lewiston and bought their first home together on Eighth Avenue. Donna stayed home with Steve until he started school and then began working at St. Joseph Regional Medical Center, where she would later retire from. It was here in the laundry department that she developed her exceptional folding skills. She often tried to teach her granddaughters the proper way to fold a fitted sheet but no one could fold laundry as well as Donna Marie. Donna always enjoyed having family and friends over to visit. The home on Eighth Avenue was never empty. This was the common hangout spot for all the kids and their friends while growing up and would continue to be that place for the grandchildren and their friends years later. It was not uncommon for friends of her children and grandchildren to stop by just to say hi and visit with her. Donna was always the life of the party. She always spoke her mind, appropriate or not, and was funnier than any other grandma you would ever meet. People were drawn to her charismatic personality. Her laughter and beautiful smile will be missed by many. The last years of her life were difficult as we watched the dementia take over the person we loved so much. Thankfully Donna was placed with Cascadia and had an amazing care team. She was loved by all the employees and they treated her as if she was their very own Old Grandma.
Donna is survived by her son Steve Spindler, three stepdaughters, one brother, 12 grandchildren, 12 great-grandchildren and two great-great-grandchildren.
Family and friends and employees of Cascadia who helped care for Donna are all invited to join together to celebrate her life at the Holiday Inn on April 15 from 1-4pm at 700 Port Drive, Clarkston, WA 99403. Food and drinks will be provided, and guests are encouraged to share their favorite stories of Donna. Expressions of condolences can be made by sending flowers to the Holiday Inn on the day of the celebration.
Service Information
Date & Time

Saturday, April 15, 1:00 PM

Location

Holiday Inn
700 Port Drive
Clarkston, Washington 99403

Get Directions
Offer Condolences