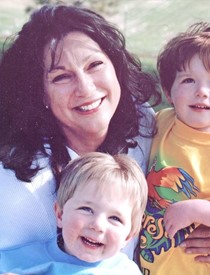 Donielle (Doni) Wagner
12/2/1966 — 11/5/2021
Donielle "Doni" Wagner, 54, passed away Friday, Nov. 5, 2021, at her home in Lewiston. Doni valiantly battled cancer for two years.
Doni was born Dec. 2, 1966, in Bremerton, Wash., to Robert and Lenore Watkins. Sister Darcy was born 2½ years later, and the girls grew up on a small farm in Port Orchard, Wash. Surrounded by a menagerie of animals, Doni developed a special bond with them at an early age. Doni was active in 4-H and showed Polled Hereford cattle all over the state.
Growing up on a farm instilled in Doni an appreciation for hard work and the beauty of living close to the land. She canned homegrown vegetables with her mother and grandmother, baked homemade bread and mastered the perfect pie crust. She unsqueamishly helped with the family forays into slaughtering their own beef, pork and chickens. She hauled hay in the summer and wood in the winter. During hot summer days after finishing the dreaded weeding and picking rocks out of the garden, Doni and Darcy escape to their "pool" — a galvanized stock tank or the frigid waters of Burley Creek.
In elementary school, Doni thought she wanted to be a human doctor but then had an epiphany in the seventh grade at a 4-H event when she was showing a beef heifer. At that moment she decided she would pursue a career in veterinary medicine. She worked for two local veterinarians while in high school. She also spent time working at Nordstrom's cosmetic counter during the summer and on school breaks.
After graduating from South Kitsap High School in 1985, Doni enrolled at the University of Puget Sound in Tacoma to pursue a BS in biology and in just three years, she finished her undergraduate requirements to apply for vet school. She then attended the Washington State School of Veterinary Medicine in Pullman and earned her DVM in 1992.
Following graduation, Doni began practicing at the Lewiston Veterinary Clinic. She had experience in both large animal and small animal medicine but primarily practiced on companion animals. She loved the day-to-day adventures of performing medicine and surgery on the many wonderful pets that came through the clinic's doors. Eventually, Doni became part owner of the clinic. Over her 29 years of practice, Doni was beloved by her four-legged patients and their two-legged companions. Even at the end of her career, Doni grieved the loss of each and every pet, as she keenly understood the bond between humans and their animals.
Throughout much of her career at the clinic, Doni traveled to Pullman and served as an instructor in the Clinical Communications division at the Washington State University School of Veterinary Medicine.
While working at the clinic, she met the love of her life, farmer and rancher Joe Wagner, and they were married March 10, 2000, at the Coeur d'Alene Resort. Doni and Joe were blessed with the birth of their twin boys July 19, 2006, Robert "RJ" and Wiley. Aunt Darcy calls them "miracle babies."
Doni was a wonderful wife and mother, with her "three boys" always her priority. Taking care of them was her passion, and she was very good at it.
She volunteered at All Saints Catholic School, and when she took on the job as a fundraiser for the annual auction, proceeds tripled. She served on the Lewiston Roundup Board of Directors for more than 10 years and was the vet on hand during the rodeos. When she was the leader for the 4-H group Krazy Kountry, participation in that club increased dramatically.
Doni loved to cook, and those who ate what she prepared were both grateful and full. What may have started out as a day of rest and relaxation often turned into a day of cooking for Doni, but she didn't mind.
She also enjoyed gardening, jet boating, snowmobiling and spending time with her family and friends. For those who were fortunate enough to be on the Wagner's Christmas card list, a highlight each year was opening the envelope to see what creative card Doni, Joe and the boys had come up with. It always featured the family, their dogs, livestock and a catchy phrase.
Doni had an infectious laugh that went along with her trademark gorgeous smile.
Even though cancer weakened her, she continued consulting with animal owners regarding their pets even in her final days.
Doni is survived by her parents, husband Joe, sons Wiley and RJ, sister Darcy (Nick) Venable and numerous nieces and nephews.
Doni was laid to rest Thursday, Nov. 11 at the Fletcher Cemetery north-east of Craigmont. A celebration of life will be held at 1:30 p.m. Friday at Echo Hills Church, 3215 Echo Hills Drive in Lewiston, with a reception to follow at the Elks Lewiston Lodge No. 896, on Country Club Drive. There will be a chance for laughter and sharing stories, because those were two things Doni loved and excelled at.
In lieu of flowers, donations can be made to All Saints Catholic School.
Service Information
Date & Time

Friday, November 19, 1:30 PM

Location

Echo Hills Church
3215 Echo Hills Drive
Lewiston, ID 83501

Get Directions
Condolences
Mary Hege
I enjoyed working with Doni on the Roundup Board. She has a fun and vivacious personality! So sorry to hear this news and sad for Joe and her boys.
Sunday, November 14, 2021 7:34 PM
Offer Condolences