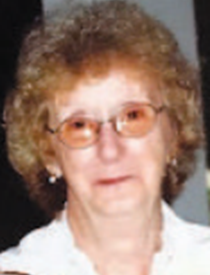 Dolores Lebold
3/31/1933 — 12/31/2018
Dolores Anne Wolf Lebold passed peacefully while surrounded by family Monday, Dec. 31, 2018, at St. Joseph Regional Medical Center in Lewiston.
Dolores was born March 1, 1933, in Lanark, Ill., to Wilford Eugene Wolf and Gertrude (Peggy) Grinnell Wolf. She married Robert Laverne Lebold on Aug. 3, 1951, in Nezperce. They lived in Moscow and then moved to Clarkston, where she lived the remainder of her life. Dolores and Robert had seven children together.
Dolores enjoyed gardening, crocheting, and other arts and crafts, and raising animals. When the children were young, she belonged to a bowling league, and she also enjoyed playing darts. For a number of years she worked as a waitress and hostess at Phoenix Mountain and Jade Lantern restaurants in Clarkston. Many will remember her as Dee.
She was preceded in death by her parents; her siblings; and three of her daughters, Wanda Lebold, Cheryl Deering and Robin Wilfong; as well as her great-grandson, Brock Daugherty.
Dolores is survived by her daughters, Elaine Lebold and Lisa Tenny (Alan); her two sons, Thomas Lebold (Anita) and Dennis Lebold (Dana); 21 grandchildren; 28 great-grandchildren; four great-great-grandchildren; and numerous nieces and nephews.
She will be missed greatly by all whose lives she touched.
A celebration of life will be held at a later date.
Offer Condolences