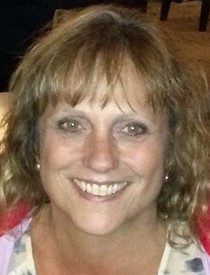 Diana Brown
6/7/1958 — 1/29/2018
Diana L. (Hudson) Brown passed on the 29th day of January, 2018.
In asking for input from Diana's loved ones and friends, there was a consensus in their observations about how Diana's smile would light up a room and she always had a positive attitude toward anyone or any task.
She was an excellent cook and loved to host a party. She loved her flower and vegetable gardens and was always worried about the health of the meal she was providing to her family. Instead of shying away from the holidays, she embraced them from having great Fourth of July parties to Christmas decorations at both her home and cabin.
When you were with Diana, she always made you feel special – she was a hugger. She loved her snow and water skiing. She had a zest for life that was infectious to everyone around her. She never judged you.
She was willing to try new things from a polar bear plunge in 2016 to taking 1st place in her class at the Seaport River Run, or riding in the I Made The Grade event. She loved to exercise and simply was not a complainer. She was an avid reader. You may have seen her running or walking with her dog, Ally, both of whom were loving and bonded with the other.
The old saying of "don't be sad I'm gone, just be glad I was here" applies so well to Di.
Diana and her daughter Caitlin were bonded together in a manner that was special, warm, caring, and deep. After Diana was diagnosed with cancer, Caitlin was always there for her, 4 or 5 phone calls a day was not unusual as Caitlin monitored Diana's well-being.
Diana was born on June 7, 1958, to Barbara Thomason Hudson and Andrew E. Hudson in Orofino, Idaho.
After Diana moved to Lewiston in 1972, and she graduated from Lewiston High School in 1976.
She continued with her education and attended and graduated from Fashion Merchandising school in Seattle. She also attended and graduated first in her class from airline school in Miami, Florida.
She began working in human resources for Gator Intermodal and Lewis-Clark Motors, and then went on to obtain her college degree in human resources in 2005, the same year she was diagnosed with cancer and accepted her degree at the graduation ceremony in between chemo treatments.
Diana continued with her private enterprise, giving businesses human resource guidance and advice, and then was adjunct professor for human resources at Lewis-Clark State College where she received the Outstanding Faculty award for the Business Division.
Diana took great pride that she was a nontraditional student of LCSC where she graduated cum laude and was able to carve out a profession for herself.
She was not an athlete growing up but turned herself into one. She took up biking and participated in 7 sprint triathlons. Over the years she participated in Lewiston Service League, Crazy Ladies Bike Group Investment Club, PTA President, cancer outreach programs, and spoke to cancer groups as to how she battled it and dealt with it in her life. When she was receiving treatment at Virginia Mason in Seattle, she would receive treatment in one department and then volunteer in another. She was such a great volunteer that they offered her a paid position to head the gift shop in the hospital.
Medical providers and friends would refer women to her that had been diagnosed with cancer who were scared and felt alone in their fear. After meeting with Diana, regardless of their diagnosis, they took strength and motivation from what Diana had been faced with, and they saw how she battled it and continued to survive in a most gracious manner.
Diana loved to travel; she, Chuck and Caitlin visited London, Paris, Prague, Venice, Pisa, Florence, Vienna, Lisbon, Madrid, Barcelona, as well as Alaska, Canada, and many cities in the United States. She also traveled with friends to Cyprus, the Spanish Mediterranean, Mayorga, Turkey, Greece, Thailand, Mekong, Laos. She minored in Spanish in college and ventured out for self-study in Costa Rica and Mexico where she went by herself and lived with families trying to immerse herself in the language.
Diana and her family made many trips to the Hawaiian Islands, loved the people, ocean, and beauty. Diana and Chuck celebrated their 30th anniversary with a trip to Stockholm, Sweden where she became enamored with the culture, the society and even the pickled herring.
Diana was tough and ornery when it came to battling the cancer but was kind, loving, sweet, fun and giving when it came to dealing with others in her life.
After being diagnosed with advanced stage IV breast cancer in 2005, at which time she was given approximately 12-24 months to live, the lesson that Diana has for all women is that the battle against breast cancer is from the neck up and not by the body on its own.
She is survived by her husband, Charles A. Brown; her daughter, Caitlin Brown, of Seattle, Washington; her mother, Barbara Jerdee, of Lewiston; her sister Andrea (Kirk) Kinzer, of Lewiston; her brother, Ron (Michelle) Hudson, of Gresham, Oregon; her father, Andrew E. Hudson, of Lewiston; and her niece Erika LaVella, nephews Jeremy Kinzer, Michael Mullen, and Randy Hudson.
She was preceded in death by her son, Chance; her maternal grandparents, Byron and Pauline Thomason; her paternal grandparents, Harry and Beatrice Hudson; and a nephew she loved so much, Brad Kinzer.
Everyone loved her beautiful and infectious smile and loved to be in her presence.
Special thanks has to be given to Caitlin Brown, Barbara Jerdee, and Andrea Kinzer for the intense loving support they gave her during the final years, months, weeks, and hours of her life.
Services will be held at Valley Christian Center 3215 Echo Hills Drive, Lewiston; time 11:00 a.m; on February 3, 2018. Please make any memorial donations to The Diana Brown Endowed Scholarship at Lewis-Clark State College which is structured for scholarships to be given to those who have been affected by cancer, either directly or by close loved ones.
Service Information
Date & Time

Saturday, February 3, 11:00 AM

Location

Valley Christian Center
3215 Echo Hills Drive
Lewiston, ID 83501

Get Directions
Offer Condolences