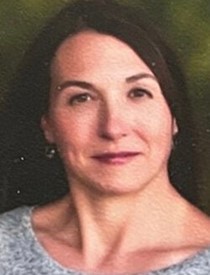 Denise James
4/3/1965 — 10/24/2023
Denise James passed away Tuesday, Oct. 24, 2023, at age 58, surrounded by family. Denise always saw the best in folks and brought positivity to those around her as certainly as rain brings flowers.
She was born to Tony Fragasso and Lynne O'Malley on April 3, 1965, in Oregon City, Ore. Growing up, she found joy in tending to her neighbors' horses and cows, playing with her family's dogs and reading every book she could get her hands on. She could spend a day trekking through the woods around her home with her sister Dina just as easily as escaping into a great novel.
Denise had a quiet strength and determination that took people by surprise. The evidence on this point is clear.
Exhibit A: One successful 35-year marriage. When Denise was in college, she invited her coworker, David, to her best friend's birthday party. With David she raised two wonderful kids, Lauren and Spencer, who were the source of her greatest pride and greatest joy.
Exhibit B: Her 33-year career with Lewiston School District as a speech pathologist. After Denise earned her master's degree in speech-language pathology at Portland State University she was hired by the Lewiston School District, where she helped thousands of students improve their communication skills. She loved all those children like her own.
Exhibit C: Her lifelong commitment to the systematic study of the natural world. She was an avid member of the Canyon Birders and could identify any species she spotted, from the tiniest hummingbird to the largest raptor. She consistently recorded her results in journals as all committed naturalists do, and it didn't stop with birds. Butterflies, flowers, animals of all types — you name it, she studied it.
Denise was a devoted and caring wife, mother, daughter and friend. Everyone who knew her knew true kindness and selflessness. There will be a private memorial service for family and friends on Saturday, Oct. 28.
Condolences
Amanda Clark
I enjoyed every time I had the pleasure of working with Denise and Buddy. She truly was one of the most patient, caring, loving Dog moms. I will really miss seeing her smiling face and telling me that was enough treats for Buddy. Rest well sweet Denice.
Amanda and everyone here at Riverview Animal Clinic will miss you.
Wednesday, November 1, 2023 8:13 AM
Cindy Fisher
I had the pleasure of working with Denise for my many years at Whitman Elementary school. She was an amazing person and a true professional. She always had the best interest of her students in mind and treated everyone with kindness and respect. As a speech and language therapist, she was constantly learning new techniques and shared many of those with me. She helped me be a better teacher. I was so sad to read of her untimely death. What a tragic loss. My heart goes out to her family and friends. May your memories of her help sustain you during this most difficult time. She will not be forgotten as she touched the lives of many.
Sunday, October 29, 2023 8:14 AM
Offer Condolences