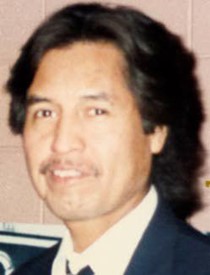 Del White
10/2/1940 — 10/7/2018
Delco "Del" Tuane White, 78, a Nez Perce Tribal member, direct descendant of Peo Peo Tholekt, of Lapwai, passed away Sunday, Oct. 7, 2018, with his loved ones by his side, at Tri-State Memorial Hospital in Clarkston. Del was born Oct. 2, 1940, in Lewiston, to parents Roy Charles (World War II veteran) and Celestine Sally (Seth) White. He graduated from Lapwai High School in 1958. During his high school years, he traveled throughout the Northwest and played with the Nezpercians Band with his father and uncles. He was a lead and rhythm guitarist. He also formed his own band, The Souls, in the late '60s.
From 1961 through 1963, he attended the Salem Technical Institute in Salem, Ore., where he studied technical illustration and earned a drafting certificate. He then married his high school sweetheart, Gladys Whipple, in 1962, in Reno, Nev. They later divorced in 1969. He served in the U.S. Army from 1963 to 1965 (Vietnam era) and was was honorably discharged. He held the rank of sharpshooter (rifle M-14). His last duty assignment was the 69th Engineer Company USARSEVEN.
He worked for the Nez Perce Tribe in various capacities. From 1970 to 1972, he was the director of the arts and crafts program, where he developed cultural enrichment activities for tribal communities, implemented promotional and marketing literature for tribal crafts, researched laws and regulations regarding copyrights and trademarks, and served as a clearinghouse for tribal artists. He developed a tribal newspaper and served as editor and staff manager.
He moved to Washington, D.C., in 1979, and attended the Antioch School of Law until 1980. He attended the National Native American Paralegal Training Program and studied federal Indian law. He earned a paralegal certificate. He then moved to Seattle and interned at the Evergreen Legal Service, American Indian Legal Department, where he was active in legal research, natural protection law and client outreach. From 1981 to 1982, he worked for the Nez Perce Legal Department as a paralegal, and he assisted in legal research and analysis, conducted law and order code hearings, coordinated assistance for tribal members with Idaho Legal Aid Service and served as a board member of the ILS Chapter in Lewiston. He was elected for four terms on the Nez Perce Tribal Executive Committee (1983-2000): as secretary (1985-87); chaplain (1988-90); vice chairman (1990-91); and assistant secretary treasurer (1997-98, 1999-2000). He was then appointed as chairman and vice chairman consecutively for the Nez Perce Tribal Enterprise Board (1984-1988), and he served as an officer of regional boards such as the Affiliated Tribes of Northwest Indians.
He served on the first Tribal Gaming Commission board that had oversight responsibilities under the Tribal/State Compact and Indian Gaming Regulatory Act (1995-96).
Before he retired in 2007, he served on the Nez Perce Tribal Gaming Commission (2000-03 and 2004-07). He had an extensive background in tribal affairs and acquired valuable knowledge and skills that contributed to the overall goals and objectives of the Nez Perce Tribe.
Del was a dedicated Bloomsday and Seaport River runner. He was a fancy and traditional dancer, traveling throughout the United States. He enjoyed biking, jamming with his guitar, watching Monday night wrestling, playing his favorite machine at the casinos, and he was a dedicated Lapwai Wildcat fan.
Del is survived by his brother, Leroy Seth; sister Delores W. (Michael J.) Penney; his niece, Michelle Penney; his grandson, Alex (Teeiah) Arthur; his granddaughter, Valencia Tapuro (Lonnie James Jr.); granddaughter Harley Ellenwood; grandson Samuel Ellenwood Jr.; and his seven great-grandchildren, Anton and Amaya Arthur; DeAndre, Celestine, Trene and Lonnie Evaron James; and Genesis Eugene Tuane Penney; as well as numerous aunts, uncles, cousins, nieces and nephews. He was preceded in death by his parents, Roy and Sally White; his nephew, Dmitri Seth; paternal grandparents Charles and Delia (McAtty) White; maternal grandparents Martin Conley and Elsie (Meninick) Seth; and his wife, Gladys (Whipple) White.
A traditional dressing service will be held at 2 p.m. today at Malcolm's Brower-Wann Funeral Home in Lewiston, followed by a life-sharing memorial at 7 p.m. at the Pi Nee Waus Community Center in Lapwai. Funeral services will be held at 10 a.m. Thursday at the Pi Nee Waus Community Center, followed by burial with military honors at the Seth Ranch Cemetery. A dinner and giveaway will follow at the Pi Nee Waus Community Center. The Rev. Dr. Mary Jane Miles will be officiating.
The family would like to extend a special thank you to the nursing staff and attending physicians at Tri-State Memorial Hospital, those who sent cards and flowers and those who were in attendance during his recent hospital stay.
Service Information
Date & Time

Thursday, October 11, 10:00 AM

Location

Pi-Nee-Waus Community Center
99 Agency Rd.
Lapwai, ID 83540

Get Directions
Condolences
Williams Family
Condolences to the White family. Our thoughts and prayers go out to your whole family. Psalms 147:3 says God, "heals the broken hearted, and binds up their wounds." May God bring you comfort and peace.
Thursday, October 25, 2018 8:50 AM
Offer Condolences