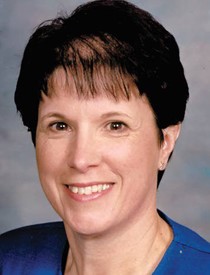 Deanna Bann
11/13/1950 — 11/13/2017
Deanna Darlene Bann passed away peacefully surrounded with her family and loved ones by her side Monday, Nov. 13, 2017, on the evening of her 67th birthday, due to complications of early onset Alzheimer's.
Deanna was born Nov. 13, 1950, in Clarkston to Floyd Leroy Ryker and Darlene Mae (Jenks) Ryker, joining her "Big Bro" Douglas Leroy at the family home. Her parents divorced a couple of years later. Her "Pappy," Archie Weathermon, soon married into the family. Deanna was the absolute sparkle of his eye. "Sis" Debra Lynn joined the family in 1954, followed by "Lil Bro" Randy Dean in 1955. Deanna attended Orchards and Centennial Elementary, Sacajawea Junior High and Lewiston High School, graduating proudly with the class of '69.
She married Gene Bann on Nov. 7, 1969. A day after celebrating their first anniversary, daughter Denetta Lyn came into their world on Nov. 8, 1970. Son Chad Eugene completed their family by joining them on New Year's Eve of 1973. During her children's early years, she had the joyous ability of being a stay-at-home mom. Once both her children were in grade school, Deanna went to work at The Bon Marche in the Lewiston Mall and then transitioned into her job at Valley Medical Center, where she worked until being diagnosed at the young age of 56.
In 1983, Deanna and Gene divorced and stayed on friendly terms. Deanna married Leon Chromie on Dec. 19, 1987. Through this marriage she and her children had many new experiences and adventures in life. Deanna was one who never wanted to sit around; She lived life to its fullest, laughing and dancing whenever she had the opportunity. Her marriage to Leon ended in 1995.
As her children married, she soon had the ultimate pleasure of becoming "Nana" and "Grandma" to Treyton, Brit, Braxton, Preston and Parker. At this point in her life, nothing seemed to matter with the exception of those five grandsons. By this time she had also found childhood crush Dick Morrell. Together they made sure the boys had fun, and were always there to support the boys' activities. Dick carried on this tradition even when Deanna couldn't be there anymore, something "Deanna would want." Christmas was always her favorite holiday, and it held a very special spot in her heart. It was important to her that the boys had a memorable Christmas.
She was always ready for a camping trip to Wallowa Lake or up on The North Fork of the Clearwater with family. Deanna was a phenomenal cook, taking after her mother, and could often be seen reading through her vast collection of cookbooks while listening to '50s and '60s oldies music. She also enjoyed snow skiing and was an avid league bowler in her earlier years. Always one to enjoy travel, she experienced numerous trips to Hawaii and Disneyland. Other adventures led her to Canada, the Oregon coast, the San Francisco Bay Area and a cruise to the southern Caribbean.
Deanna was a longtime parishioner of the All Saints Catholic community. Her other civic involvements included Daughters of the American Revolution (DAR), Valley Meals on Wheels and Wishing Star Foundation.
Preceding her in death were her mother, Darlene Weathermon; father Floyd Ryker; stepfather Archie Weathermon; stepmother Phyllis Ryker; as well as her younger brother, Randy Weathermon.
Survivors include daughter Denetta (Ronnie) Nugen of Clarkston; son Chad (Marni) Bann of Lewiston; brother Douglas (Vicki) Ryker of Lewiston; and sister Debbie (Terry) Pearson of Lewiston; sister-in-law Tina Weathermon; and special friend Dick Morrell of Lewiston, who relentlessly visited and stood by her side each day as she courageously battled through Alzheimer's; grandchildren Treyton, Brit and Braxton Bann of Lewiston and Preston and Parker Nugen of Clarkston; and many special nieces, nephews and cousins. Her time spent with family and friends was her greatest joy in life.
The family would like to thank Chad, Tracy, Abby and Tina of Wedgewood Terrace for giving Mom the attention and compassion she so deserved in her final hours.
Memorial services will be held at 10:30 a.m. Tuesday at All Saints Catholic Church, 3330 14th St., Lewiston, with Deacon Fred Schmidt officiating. Lunch will follow in the social hall. Memorial donations in lieu of flowers are suggested to All Saints Catholic School Building Fund, 641 Fifth Ave., Lewiston; or Valley Meals on Wheels, P.O. Box 1711, Lewiston.
Malcom's Brower-Wann Funeral Home is in charge of arrangements.
Service Information
Date & Time

Tuesday, November 21, 10:30 AM

Location

All Saints Catholic Church
3330 14th Street
Lewiston, ID 83501

Get Directions
Offer Condolences